I am currently looking at an e-mail; an e-mail that had our schedule of events for while we were in Utah. Yes, we had a schedule. When there are four families (counting my in-laws) and seven kids 6 and under, a schedule really does make life a lot easier.
So over the next few days I will let you in on what my family did while in Utah.
While in Utah...
after driving most of the day we waited about twenty minutes to eat at a pizza buffet. Eric was near death, just ask him if you don't believe me, but we waited as we were celebrating Rachel's birthday.
The celebration continued with a cake she made herself on Sunday.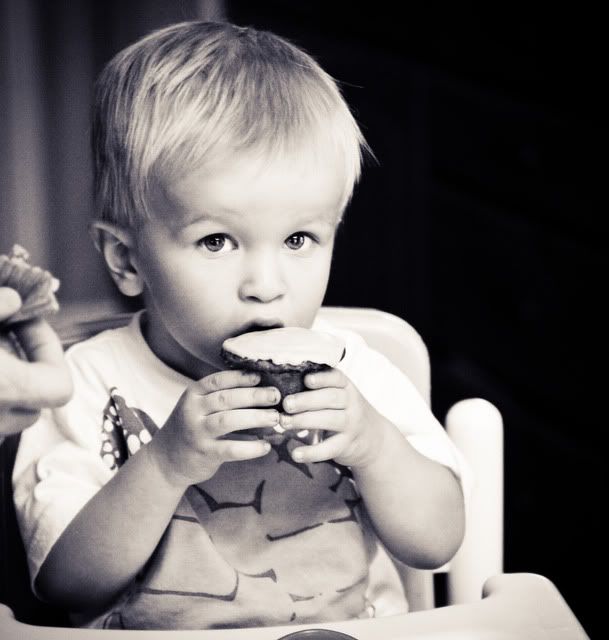 my nephew eating a cupcake-also made by Rachel-
who took this picture which I edited


While in Utah...

we squeezed in some time to see my brother and his family... not easy to do when you have a schedule of events- but lots of fun--especially eating at

Leatherby's Family Creamery

--mmmm huge icecream!

While in Utah...

On Monday we had an Iron Chef competition. All of the couples versus each other... though Mimi (Grandma) watched the kids and Poppie (Grandpa) joined Eric and I. Each team had to make three recipes in 1 1/2 hours- each recipe had to contain the featured ingredient... tomatoes.

My team's tomato cake--yes I said tomato cake. It was surprisingly very very yummy.

While in Utah...

we had a big Family Home Evening where all of the dad's talked about their missions--they earned lots of money for doing so. (Not real money-but fake bills that we are all trying to earn for the mystery bag auction at the end of the week)

While in Utah...

On Tuesday we managed to get all 15 of us in a family picture-no I was not taking this one. The best part, no one cried and I think we got some really good pictures.

While in Utah...

we (all of the adults minus

Rachel

and Mimi who were kind enough to watch all seven kids) went out to Tooele (pronouced

too-

il

-ə

) to

Miller Motorsports Park

to ride some really fast go-karts. These aren't wimpy little ones found at your mini-golf course.

You have to go over all the rules, get on all the gear....

And the almost flipping I referred to the other day.... well I have been on go-karts like this--it used to be one of my BIL's family business to build and race these things. They had a huge track in their backyard and so I got to go ride them from time to time.

That still didn't stop the butterflies in my stomach when we got there. But as soon as I was on the course, I was quickly passing my SIL and one of my BIL's. I was doing great, cruising around the curves.... until I went around the track the second time. I think I was going a little too fast before the hair pin turn and freaked a bit during it and hit my break--a big no no while in a turn-- and next thing I know, I am flying off the track at full speed. I don't know for sure what exactly happened at that point except that I was on gravel and rocked up on my two right wheels, only to come back down on the opposite two wheels to finally hitting the ground with all four wheels just in time to hit the fence.

I sat there stunned. My neck hurt a bit from whipping back and forth and my left leg really hurt too-- I figured I must have hit it on the steering wheel. One of the guys from the track had to come pull me back onto course and I kept driving, though my stomach dropped every-time I approached that hairpin. When our ride was over one of the ladies working asked how my right arm got all black, I had no idea it was black and wasn't quite sure how it did.

After karting we braved the zipline- it was a lot scarier going up than down.

Here's a little video showing some of fun we had out there

And my crash.. well the 5"X2" bruise on my thigh hurt really bad for several days.

While in Utah...

while we go-karted, the kids did this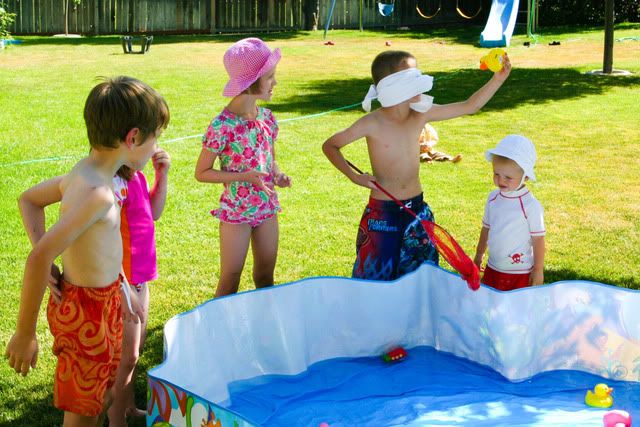 and Rachel took these (I did the editing)...
Ryder and his cousin

While in Utah...
we ended the day with Cafe Rio and frozen yogurt from Menchies.
Stay tuned tomorrow for more of While in Utah...