Hello!! Are you ready for the final installment of While in Utah? In case you missed it you can go back and read
part 1
and
part 2
.
Before I begin, I first have to say, thank you to all of your concern about my nasty go-karting souvenir. I am happy to report that the skin in the middle of the bruise is now almost skinned color-though the outer ring is all colorful still- sort of like a donut (did you know Beyond Glazed Donut's most popular flavor is maple bacon)
Oh- and the big group picture at Snowbird with "all of us but me" mmm opps-Sorry Todd-Rachel's husband-- I forgot you weren't there that day- darn work. So two of us are missing from that picture.
**Also--if you want to see all of the yummy food that we made in the Iron Chef competition-my SIL has pictures of each dish on her food blog-- definitely worth checking out-just
click here
.
And now the moment I know you have all been waiting for... since I left it hanging at Thursday evening.
While in Utah.. the final chapter.
While in Utah...
we had a mystery bag auction. Remember those dollars I told you the dad's earned for teaching Family Home Evening? Throughout the week everyone could earn dollars- clear your dishes, help make a meal, take pictures of cute nieces, etc. The kids were all over this and were often trying to clear people's dishes before they were done eating.
With those dollars earned- there were many many bags with unknown prizes inside.
The kids had their auction first, with specially designated bags- each bag actually had seven things inside, so after one kid "won" the bag, they then shared one thing with each kid. No crying and hurt feelings that way.
But the adults- well we outbid and fought over those bags of who knows what until after you won it. I won some YooHoo's, a real $10 bill, an activity art center (which is actually a prize we brought to contribute but my MIL bagged them for us so I had no idea), a lemon juicer, a cool spatula/spoon thing... and a few other things which I am forgetting.
It was a lot of fun though.
While in Utah...
the dads took the kids (minus the youngest two) to see Cars 2. The kids loved it, minus the long previews and one kid needing a potty break
While in Utah...
the moms got a babysitter for the babies and went to the spa! Have you ever had a facial before? I hadn't. We pictured it looking like a salon- all sitting by mirrors in a row, gossiping and drinking our alcohol-free cocktails-since we aren't the drinking type- so we were a little surprised when they took us to our own rooms, had us "dress down" and lay there for 45 minutes of pure bliss! Lots of face cleansing, warm almost hot towels wrapped around faces, leg and arm massages.... This has for sure become a yearly tradition.
While in Utah...
The parents went to dinner at
Red Iguana 2
(picture total dive looking but awesome Mexican food restaurant) while the grandparents watched ALL of the kids!
While in Utah...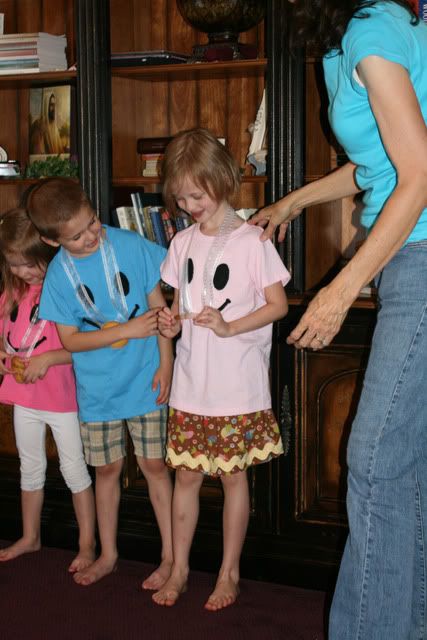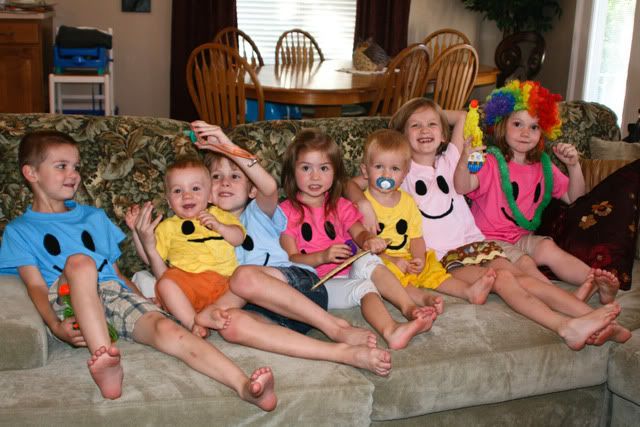 all the kids in the coordinating pajama shirts Mimi made them
While in Utah...
the kids (minus the babies) had a campout with Mimi in her backyard. Five kids and one grandma sleeping in a tent-but they were all truly in heaven and had a wonderful time
coolest grandparents ever
While in Utah...
we all cried when we had to leave on Saturday.
It was a very fun trip and we are already anticipating next year when we can see everyone again.
And maybe next year I will actually be able to squeeze in a blogging lunch- and meet all of my great blogging friends that live in Utah!