It's Thursday! If you are new around here that means it is is Proud Mommy Moment (#PMM) time! This is your weekly chance to brag about the awesome things your kids, nieces, nephews, etc did and no one will judge because we told you to. Or you can do the opposite and tell us about those moments your kids made you so "proud"- i.e. something totally embarrassing but hey it makes for great blog material! Please grab the button for your post and visit my co-host
Kmama
.
With the beginning of a new school year, you can't help but wonder (and worry) about how that year will go. Will they get a good teacher? Will they make friends? How long will it be until they start complaining about homework?
Monday was Alex's first day of kindergarten. I left Alex sitting at her desk all smiles.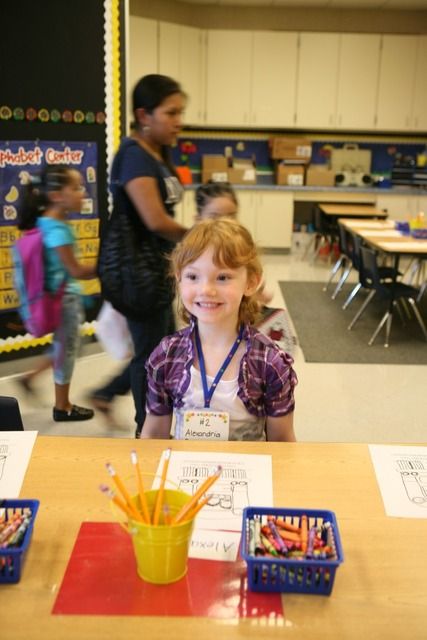 After saying goodbye to Lucas I headed home. It was just Ryder and I, so quiet now. The morning quickly passed with a call to my parents and a trip to Costco. Before I knew it, it was time to get Alex. I waited in the line of cars and finally made it to the front of the line. Alex's teacher brought her over to the car.
"She did so good today. She just really gets it" her teacher reported.
"Awesome! I am so glad!" I beamed.
Alex then talked my ear off about everything they did and how wonderful it was and how much she loved it. And this proud mama- I said a little prayer of gratitude that the day went so well.
And not to leave my oldest out-- when I picked him up a couple of hours later, after he had a chance to cool off from the heat and lose the grumpies; he told me how great the day was and that he loved second grade.
What is your PMM this week?