"Can't it be Monday?"
"I'm going to do everything really fast so the time will go fast so it can be the first day of school."
I heard things like this all weekend. Lucas and Alex both were beyond excited for school to start. I was totally grateful for that as their excitement helped calm my nerves.
Monday morning came. I heard Lucas' alarm go off. "Awesome!" he said. He hurried in to wake up Alex. She took a little convincing it was time to get up, but was soon very excited that it was her first day of Kindergarten.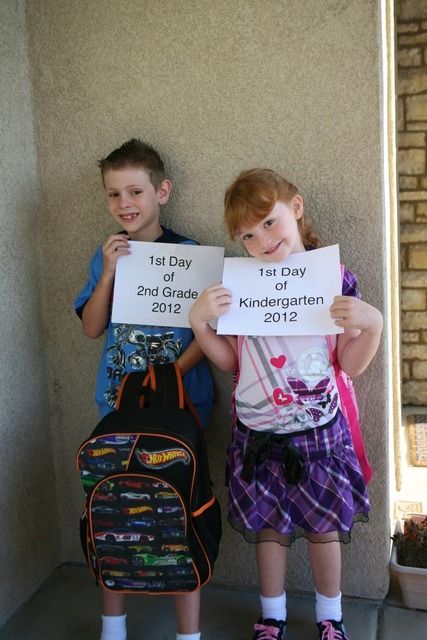 Yes he is in his socks- I made him come outside for better light

Lucas was excited to be the big man on campus- or so he seems to feel- as in his words he has spent a whole year at the school so he knows where everything is. It was quite cute watching him take Alex around.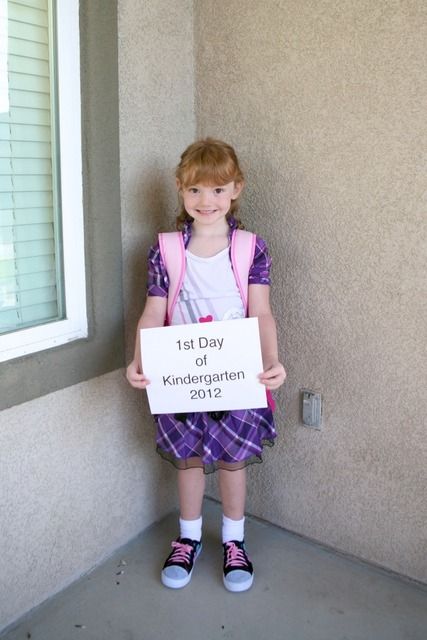 Alex admitted for the first time she was a little nervous- I assured her this was okay and that she would do wonderfully. She seemed to quickly forget these nerves when we arrived at school.
Outside her classroom door
Alex found her name tag, hung up her backpack and waited with the other kids to go into her class. For those of you who live in cold places- in California the schools are open and each classroom's has it's own outside entrance--this was so weird to this Illinois girl at first.
Alex is the tallest in her class
After we went into Alex's class with her for a couple of minutes, we headed over to see Lucas one last time. (Kindergarten starts 10 minutes earlier)
Lucas walking to his classroom with his classmates
Lucas was also very excited to have a friend from church, plus a few friends from his class last year in his class this year.
Before Lucas started kindergarten I created a video about him in honor of that (you can see it on my
YouTube page here
)-and well I didn't want Alex to suffer from the middle child syndrome so I created one for her too. It is a bit long- but if you know anything about my past videos- you know I try and do them right and make them entertaining, so I really do think you will enjoy it and it would make my day if you watched it.