It's time for the monthly #photoaday recap!
@Fatmumslim Photoaday

has created a

photoaday

challenge which has become very popular on

instragram

.
Janette of the Johanson Journey
and I decided it would be fun to make it a monthly meme so we can see all of your pictures too.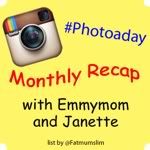 So if you blog, grab your pictures you took for July, make a collage, make a slideshow, or just show your favorite ones; however you would like to do it. We just ask that you grab the button to add to your post to help spread the word.
Here are my pictures from July
1. Self-Portrait
2.Busy- busy helping Ryder watch home videos- he is
obsessed!
3. Best Part of your Day- when daddy gets home
4. Fun- waiting to watch the fireworks
5. On the Floor - shirts laying out to dry
6. Chair- my favorite
7. Garden- um a garden of sorts- a design on a towel
8. Lunch- eating my lunch in the car on our vacation
9. Big- Ryder was a "big" helper
10. Your favorite color- blue of course
11. Letter- C is for cookie that's good enough for me
12. Texture- cupcakes have a texture I like
13. Open- open my mouth to put these donuts in
14. Building- Lucas building with his cousin on our last day of vacation
15. Finger- holding my little guys finger
16. Sign- a sign too many people ignore
17. Your Addiction- my computer, my blog and my kids
18. Plate- one of those days- this was my plate for dinner
19. animal/insect/pet- cute little animal I saw today
20. Eyes
21. 9'oclock- easy morning playing the iPad
22. Upside down
23. Mirror- checking out my new glasses first thing in the morning
24. A Stranger- swinging by some strangers at the park
25. Heart
26. Sunshine
27. On The Road- Trolley on the road at the mall
28. Cup- One of my favorite cups
29. Last Thing you bought- school clothes for Alex
30. Calm-doesn't get much more calm than the beach
31. Toothbrush- new toothbrush from kids' dentist appointment today
Did you participate? Can't wait to see your pictures.