6:20 A.M. my alarm reads. I sigh knowing my days or sleeping in- well as much as my kids will let me are over.
The bags are packed; the outfits picked out.
The kids- thankfully beyond excited.
Today is my kids' first day of school. Lucas in second grade and it's Alex's first day of kindergarten.
All weekend they have been wishing for time to go faster as they can't wait to start. I am very thankful for that as otherwise I don't know how excited I would be.
You see, I remember the homework. I remember the excitement of getting ready in the morning quickly wearing off.
But right now they don't remember that. All they know is excitement.
Here's hoping it lasts.
First day pictures to come on Wednesday.
Tomorrow is a special day as it is your chance to link up again with Janette and I for the
#Photoaday recap
.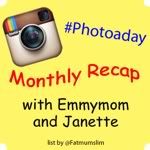 Share your pictures tomorrow from July, we can't wait to see them!