How did you do this month? Did you keep up with the #PhotoaDay challange? Another month has gone by so i
t's time for the monthly #photoaday recap!
@Fatmumslim Photoaday
has created a photoaday challenge which has become very popular on instragram.
Janette of the Johanson Journey
and I decided it would be fun to make it a monthly meme so we can see all of your pictures too.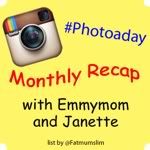 So if you blog, grab your pictures you took for September, make a collage, make a slideshow, or just show your favorite ones; however you would like to do it. We just ask that you grab the button to add to your post to help spread the word.
2. Father
3. Far Away- toys at Bass Pro Shop were far away and life would have better had we left it that way
4. In my Mailbox- mail on my counter as my husband always brings it in
5. Bright- wasn't very bright on this rare rainy SoCal day
6. Everyday- only thing I actually do everyday is use the John
7. Natural- his natural curly hair
8. At night- sometimes at night I go on dates with Eric
9. Something you do most weekends- get dressed up for church
11. Hero- my husband is my son's hero
12. Together- me and my bed go together nicely
13. Table
14. Favorite- my favorite thing is going out to eat on Fridays
15. First thing you see- boys playing iPad in the morning together
16. Strange- still recovering from the strange ending to BYU/Utah football game
17. In my fridge- do you see my hidden treats?
18. Price
20. Man-made- fake flowers- only kind I can keep alive
21. Sometimes- I wish there were school buses still
22. Up- "up" loading the pictures from the baby photo shoot onto my computer
23. Before Bedtime- I take my eyes out
24. 3 Things- 3 types of icecream and yes I ate it all!
25. Frame- my box of thrift store frames
26. Near - needle is getting near empty
27. Love/Hate- love/hate relationship with kindergarten pickup-shorter lines but right in middle of day
29. errand- the vehicle I use to run my errands
30. You, then- pic of me and my little sister, stolen from my post about my heart surgery
Can't wait to see your list! Link up below.