In my birthday post last month I mentioned that I was known as the pajama runner my freshmen year at BYU and
Sarah Kate of Dixie Creek Farm
, whom I adore, said I must tell more details about this.
My freshmen year I lived in dorms called Deseret Tower. They were a set of 7 buildings each 7 stories tall (sadly have since been torn down and rebuilt).
One of the towers being torn down
I became best friends with one of the girls next door- Amy. One night after a long day of classes and studying we were bored and needed something to do. We were both already in our pajamas for the night.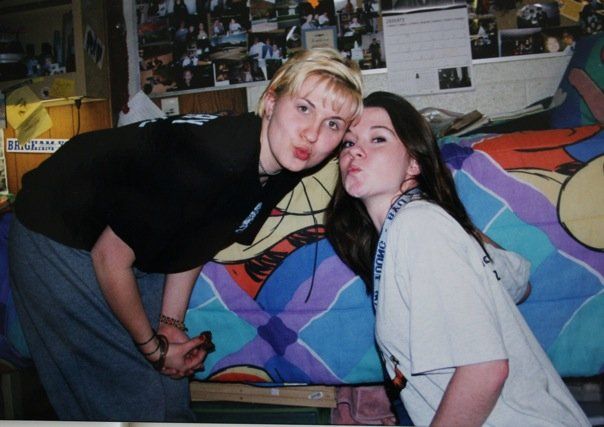 Amy and me all pajamaed up and making the kissy faces before it was the thing to do
We decided to entertain ourselves by riding up in down in the elevator. We went in, sat down and simply talked as it went up and down, those entering giving us odd looks. And then- well I don't remember what exactly happened next but we decided to run.
We rode the elevator to the first floor and ran out the lobby doors and ran straight to the next building- in one set of lobby doors and out the other-side. People of course looked at as and asked us what we were doing. But we just kept running, in one door out the next until we made it through all seven dorms, making a loop and ending up back at our dorm collapsing on the couches in the lobby.
So it began. This became an almost nightly ritual. In one door, out the next. We would only stop for really cute boys or cookies, everyone loves cookies. Sometimes we would end our run in the Cannon Center (where the cafeteria, a store and the mailboxes were) to flirt with one of the night security guards -- but otherwise we just ran and always in our pajamas.
As the weather turned and snow covered the ground, our runs became less frequent- but we were and would always be known that year as the Pajama Runners.
Amy and I pretending to sleep after one of our many pajama runs
Did you have a nickname in college?