Do you use instagram? Do you do
@fatmumslims
photoaday challange? If so
Janette of the Johanson Journey
and I would love to see the pictures you took for October. You can share them all, share your favorites, or even link you instagram feed.
Last Tuesday Every Month
Also, did you know you can link up your actual Instagram Feeds? Didn't get a chance to recap your month? That's okay…. This is an option if you want to send us directly to your feed. They are free & easy and give you a link that you can link up with! For example, Janette's is:
http://web.stagram.com/n/johanson52607/

So even if you did not recap on your blog- add your instagram link as we would love to see your pictures.


Here are my #PhotoaDay October pictures.
1. Where you Stood- to get a drink at night before bed
2. Lunchtime
3. This happened today-he actually got to play in his sisters room while I cleaned it
4. What you read- mostly just blogs lately
5. Shadow
6. I'm Thankful For- the opportunity to be spiritually uplifted and remember what matters most in life
7. Light
8. Angle
9. Red- my favorite red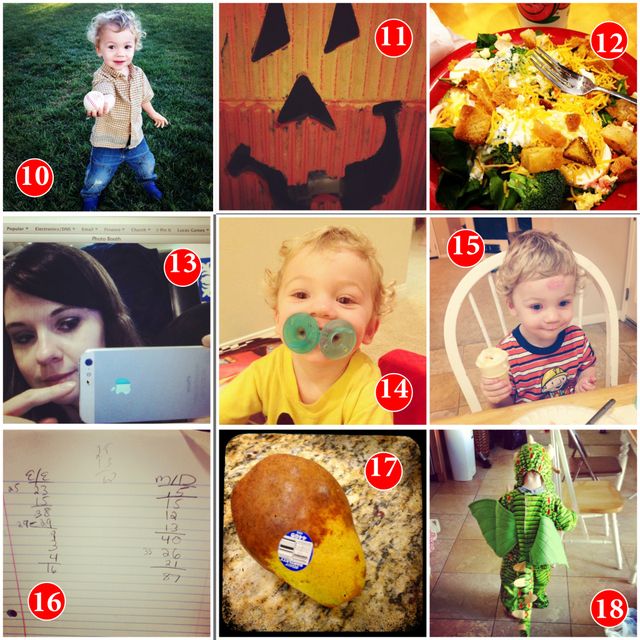 10. Emotion- despite being 2 his emotions are still pretty happy and laid back
11. Something close-up
12. On the table
13. Landscape-- unless you want skinny funny videos- ALWAYS shoot video in landscape
14. Makes you laugh
15. Dinnertime- missed dinner time, but here is dessert
16. Something you wrote- play pinochle with my parents- keeping score
17. Fruit
18. Made you smile today
19. Letters
20. 4' O'clock- view during the SoCal social
21. Calm- game of checkers calm at the moment since Alex still winning
22. In Your Town
23. The View from Here- view from soccer practice
24. Weather- rain in the morning, sunny rest of day
25. People
26. Listening to- my daughter talk at dinner
27. Morning - soccer games done, now just watching a show
28. Looking Back- Alex looking back at me
29. Moon- moon on the pumpkin I carved
30. Clothes- I hate putting clothes away!
31. Whatever you Please
Can't wait to see your pictures!