I think it is a safe bet to say that all of us have lost someone in our lives. For some it was grandparents, others spouses, brothers, sisters and for some even a child. When we experience these events we can't help but reflect on what happens to the ones we love. Different religions and cultures have different beliefs as to what exactly happens but something I find fascinating is that one of the most common things said on the deathbed is "I am going home".
And what about those who don't quite cross-over or do only to return back to life.
I recently was given the opportunity to read LDS author Marlene Bateman Sullivan's book
Gaze Into Heaven: Near Death Experiences in Early Church History
"Most of us have wondered exactly what will happen when we die. What does the Spirit World look like? Will we see departed family members and friends? What do people do there?Do spirits there know what is happening on earth? What did people who had near-death experiences learn from their visit? All of these questions and many more are answered in Gaze Into Heaven. There have been many books written about modern day near-death experiences, but Gaze Into Heaven is the first to focus solely on those that took place in early church history.

"
I also got the opportunity to interview the author

,

here are the questions I asked her.
1. When you were a child what did you want to be when you grew up? Did you always want to write books?
I love easy questions. I've always wanted to be an author. I've wanted to write ever since I was in elementary, although I did not commit to it until I was in Jr. High. While attending college, I got married and that and having children set me back for years because—let's face it—you can't do everything at one time. To everything there is a season—But I continued writing as I could (I wrote a lot of magazine articles) and I never gave up.

2. Do you have a favorite story from the book?
This is a very hard question. There are so many stories I loved. Two of the experiences, those written by Tom Gibson and Thomas S. Thomas are very lengthy, but also very beautiful. Both of these give the reader a clearer view of the spirit world and I really love them. I will include an excerpt from Thomas's experience.
When Thomas arrived in the spirit world he declared, "All mental powers were restored. The fond memories of the past returned in their entire splendor. After the reunion of all your faculties are intact, memories of your past are all made plain, your soul is endowed with wisdom and knowledge and filled with everlasting love. . . . Distance is no barrier to transmit thought without instruments, or to travel under your own power. Your vision is magnified there; your future view is plain; desire for knowledge is inexhaustible; you are master of yourself; intelligence is the key to all realms which makes an endless trail to all advancement and is a place of satisfaction and joy to the soul. . . . "
"The grand greeting you first receive is from your closest of kin—father, mother, brother and sisters—and all that are near and dear to you who passed from earthly life and arrived in the Great Beyond before you. Your nearest and dearest friends and many others come to greet and converse with you. They ask about the conditions of their kin, those whom you were acquainted with on earth, and are anxious to learn of their kin's surroundings and conditions. You will find this a great meeting place of all souls, where information is eagerly sought, concerning earth's conditions, by those who have passed from earthly life and are in this stage of existence. These souls are now busy, in the future existence, working in different habitations. Many are from different spheres. All souls are fully enjoying their positions and surroundings. You read from their cheerful countenances a condition of contentment. This gives you a picture of satisfaction. . . . The millions of souls waiting to come to earth cannot comprehend things told them concerning it because they have not experienced anything earthly. They are eagerly waiting to make the earthly trip. . ."
3. Where do you like to sit/be when you are doing the actual writing process?
My husband and I remodeled our house four years ago and so I have a wonderful little office (previously the formal dining room). I have a nice L-shaped desk, and my son talked me into getting two monitors and now, I could not live without them.
In the room is a beautiful bay window where I can look out across my lovely yard. My two dogs often sleep on the floor by my feet to keep me company. I have three cats, and one of them, Autumn, likes to occasionally jump into my lap and snooze while I write.
Outside, I have my second 'office'—my gazebo. It's my writing oasis in the late spring, summer, and early fall. We live on a very large lot, and have lots of bushes, trees, gardens, and lawn. I love it! My husband put up blinds on two sides of the gazebo to cut down on the glare on my laptop. I put a little fountain in one corner and sit on a cushioned swing. And yes, my dogs and two of the cats always come out with me and lounge around as I write.
4. What is your favorite food?
I love Chicken Fettuccine! I also love halibut—could eat that every day!!
5. What inspired you to want to write this book?
When I first came across a near-death experience—while researching for another book—I was so comforted and inspired that I wanted to find more and share them with everyone! It was so wonderful to read these experiences and have their confirmation that God lives, that He loves us and that life continues on in a beautiful place where we are happy, and I wanted other people to read them and feel the same warm feelings that I had.
6.
What do you hope readers will get from your book?
I hope it will comfort people and allay any fears they might have about dying. I also hope it will build people's testimonies. One woman named Alice, wrote me and said;
"I LOVE, LOVE, LOVE this book! I can't even tell you how grateful I am to you for writing it. My 12 year old nephew died in May and this has been a healing balm to my soul. I can't wait to send a copy to my brother. I have always been afraid to die, but not now. This book has power in its pages. It feels like hallowed ground just gazing into the cover. It's sacred like the temple."
I was very touched by Alice's email. I hope people will be inspired to try a little harder and do a little better. We all could use a little help knowing that all acts of kindness, even small ones—mean so much, and to realize that this life is not just a testing period, but a chance for us to grow and learn. I hope people come away from this book with a firmer conviction that life continues on and that if we endure our trials patiently and learn from them, great blessings await us.
7. Are you working on any more fiction and, if so, what? Also, which do you find more difficult—fiction or nonfiction? And why?
My second novel, Motive for Murder, will be out this June. It's a great mystery with a quirky private eye, Erica Coleman, who has OCD. It has a very surprising twist at the end!
I also have another non-fiction book, Heroes of Faith, coming out in July. This is a collection of stories about people in early Church history who actually risked their life in defense of the gospel.
Right now, I'm working on a light-hearted, romance novel that is set at Christmas time. It's been quite a change for me, since I've been writing mysteries for a while.
My reactions:
The book truly was fascinating to read. I love reading about the differences and yet the underlying similarities in the different experiences. It was such a good reminder of the hope and comfort knowing that there is so much more than just this life and that I will be able to be with those who have passed on again.
While this book is only from accounts of those belong to the Church of Jesus Christ- the truths are universal and will help shed more light on what Mormon's believe about the after life if you are curious.
If you want to get your own copy it is available online here on
Amazon
,
Deseret Book
, or
Seagull Book
. If you live close to a Deseret Book or Seagull book you can purchase in store.
You can visit the
author's website here
.
Today I even have a copy to give away to one of you! The contest will be open through next week-- good luck!
a Rafflecopter giveaway
********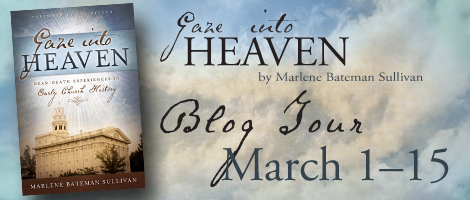 Disclaimer: I was contacted by the author and asked if I would like to be part of the Gaze Into Heaven Blog Book Tour. I was provided a free copy of the book for my review and a copy to give away. All opinions, feelings and thoughts are my own and truthful.