I don't know if there are many things I love more than pasta and add a piece of pie and oh yum! This last weekend I was invited to try
Marie Callender's
new Pasta and Pie Amore menu with 7 other Southern California bloggers in a sponsored dinner.
I was so exited as I was going to be able to meet 5 new bloggers and spend the night with two bloggers who I already know in real life, including my bestie
CA Girl
!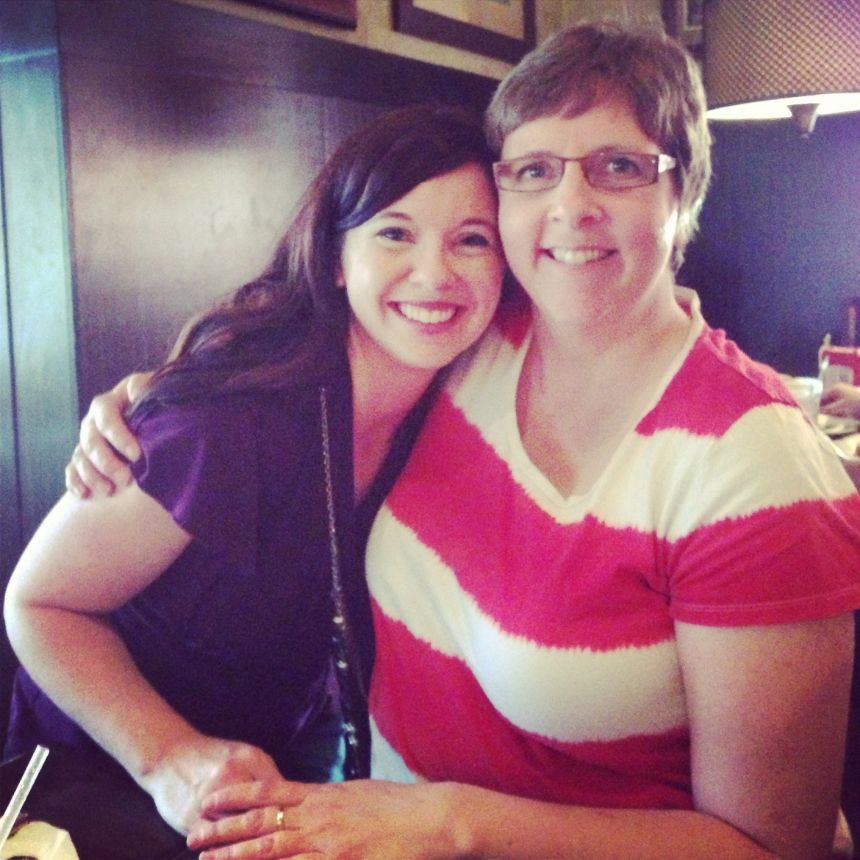 Me and CA Girl- looks like we were holding hands-- I think I was just holding on to her so I wouldn't fall over while crouching for the picture!
I carpooled with Caryn from
The Midlife Guru
and was impressed with how friendly and happy the staff was from the start.
They took such great care of us the entire evening our server was so awesome putting up with all us crazy bloggers who have to get a picture of every single dish of course. When it came time for him to bring us our pie he just went ahead and put it on the second table by the windows with the better light.
Photographing the pie at the good lighting table
One customer at the end even came up and asked who we were-- as well, we were quite the sight to see.
Now the food-- Marie Callender's is introducing a new Pie and Pasta Amore menu. There are four meal choices that come with a pasta dish and a FREE piece of pie starting at $9.99.
There was the dish I ordered the Shrimp Angel Hair Sorrento-which is described as "
Angel hair pasta with roasted portobello mushrooms, fresh asparagus and roasted tomatoes in a creamy alfredo sauce. Topped with sautéed shrimp and parmesan cheese."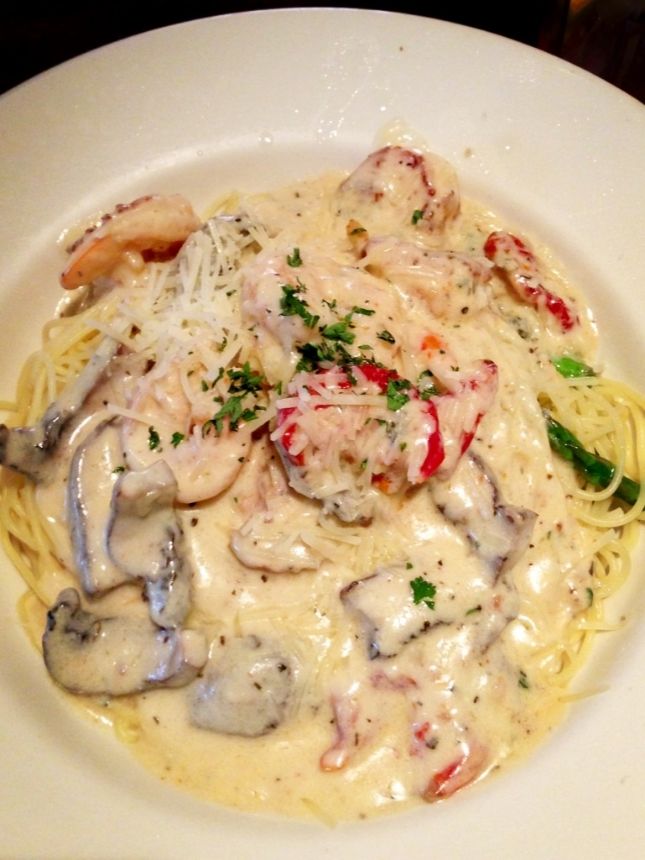 I was the only one of the group to order this dish, so the crazy photographer bloggers in the group (yes I am a photographer but I didn't bring my real camera) stole my dinner to take it into the better light for pictures! I have decided there is a reason I am not a food photographer, when my food comes I just want to eat it!
When I did get it back it was very yummy, the shrimp was great, the sauce was a creamy with almost a hint of tomato taste and it was huge and very filling, I didn't even finish half of it!
There was also a Bake Rigatoni with Caesar Salad; those who had this said it had a nice spicy kick
A Chicken Pesto Alfredo with Caesar Salad, which one blogger got vegetarian style minus the chicken.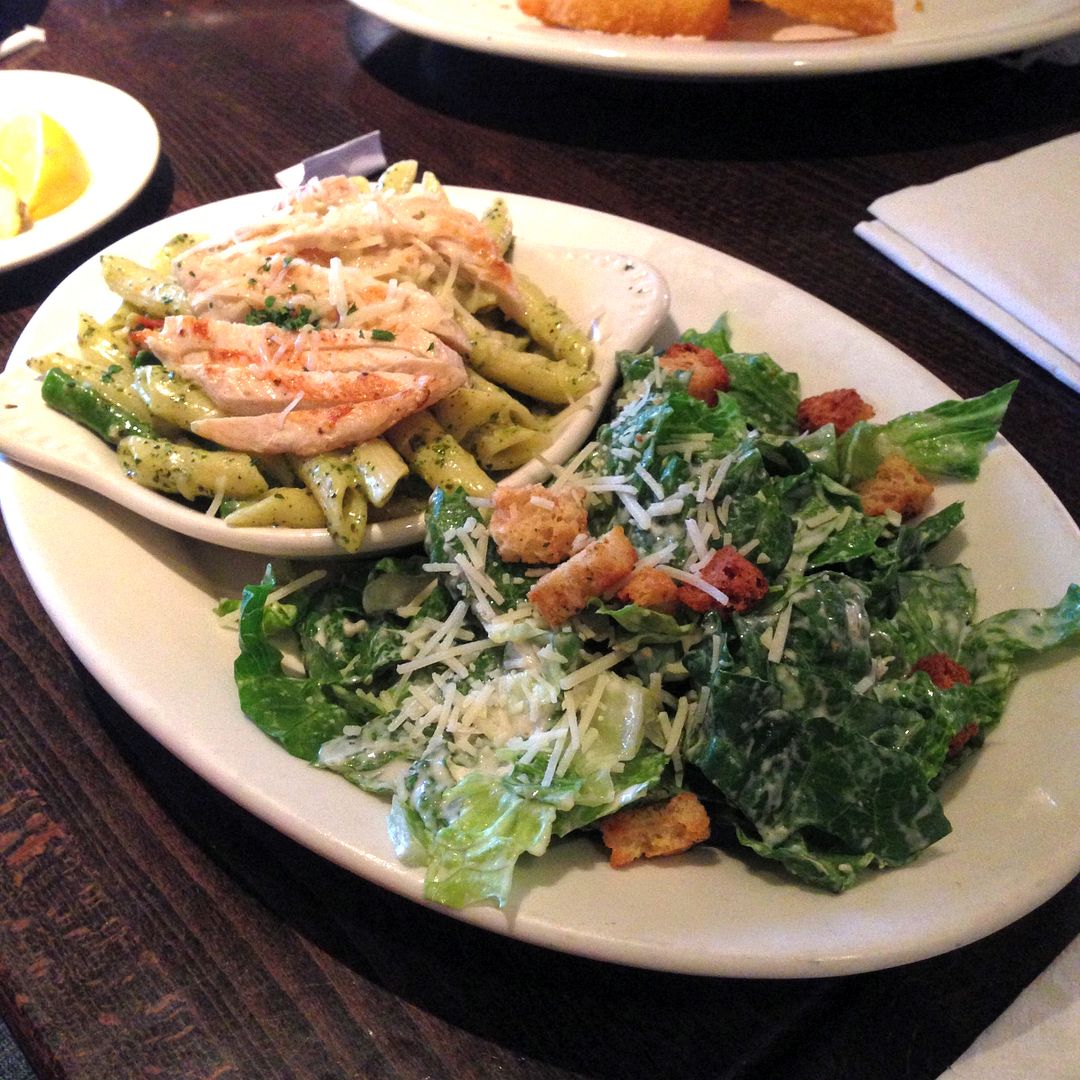 Finally, there was the Wild Mushroom Ravioli with Rosemary Chicken which I almost ordered but in the end picked the Angel hair and forgot to get a picture of the ravioli.
Even though I didn't finish my pasta I did magically still have room for dessert (isn't there always room) and good thing as the Dutch Apple pie (a la mode) I picked was so good!
It was a great evening and I was really very happy with the great service and good food that we had that night.
Plus it was just so fun to hang out with a bunch of bloggers; as well we really are our own breed.
Thank you again to Marie Callender's for sponsoring this great evening, I left very full and very happy.
Disclaimer: This was a sponsored post, all feelings and opinions are my own and truthful.