I have been blogging for a long time now, this November will be 5 years! I have seen a lot of things come and go in the blogging world so definitely wanted to jump in and answer the We Want to Know Questions with
Kenzie
and
Scriptor
.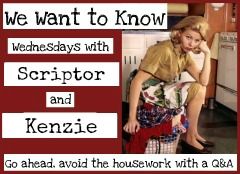 1. What is your favorite thing about blogging?
Definitely the friendships and connections; knowing that I am not the only one out there going though something and that there are people who have my back. I have been able to meet some bloggers in real life and it is always so surreal meeting a stranger who you feel like you know everything about.
2. What do you find your inspiration for blog posts?
Mostly every day life, my kids, things that are happening at home, sometimes things in the world. If I am drawing a blank I always like finding parties like this one with good ideas for what to write about.
3. Are there any blogging trends you follow?
I guess social media. When I began blogging I was not even on Facebook, not my blog didn't have a Facebook page, but I myself was not on facebook. I didn't want to either as it seemed silly and one more thing to do. Now I am on
Facebook
,
Twitter
,
Pinterest
,
Google+
,
YouTube
, and
Instagram
to name a few. It really has changed the whole face of blogging.
4. Any trends you don't like?
See number 3-- I really have a love/hate relationship with all the social media. I love that Pinterest is my number one source of traffic. I love the new bloggers I have met through twitter, etc, but I hate that I feel like I have to keep up with all of that stuff.
5. What advice would you give to a new blogger?
Decide why you want to do it. Are you doing it for money? Are you doing it for journaling? Are you doing it to share your story? Whatever you reason may be hold on to that and remember that as there will be days that you will really think, why the heck am I doing this? Also, go comment on other blogs and if someone comments on your blog please visit their blog (unless they leave a lame comment like, "hi, I liked your post come read my blog"- I give you permission to ignore those people). I always try and go back to the blog of someone who commented on mine. I will be honest sometimes it takes me a week (or more) but I will get back to it.
So how about you, what do you like about blogging? What keeps you going?