Okay, okay so technically it is Thursday, but you see I just got a new book
Arbitrate
by Megan Thomason, part of the
DayNight
series, it doesn't actually come out for a few more days but I have an advanced copy and oh my gosh I can't put it down! Hence why this post is a day late, better late than never. So today I am linking up with
Kenzie
and
Scriptor
.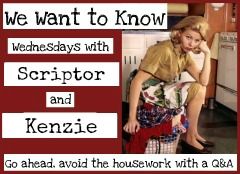 Were you athletic as a child?
Sort of? I was always a fast runner and in junior high no one could stop me in flag football. I also did play t-ball and softball. One year I played third base and would run and dive to catch foul balls, ending up with bloody scratched up knees. I could also make the throw from 3rd to 1st and rarely if ever stuck out. I even made the all-star team my last year of softball but that was my last year as I chickened out about going to fast-pitch. Other than softball I wasn't really
allowed
encouraged to play too many sports. I had open heart surgery when I was five and my pediatrician was worried that school coaches might push me too hard. My heart doctor wasn't as worried though, but I think I used that as a crutch at times.
Did you play organized sports?
Yep, one year of t-ball and 3 or 4 years of softball (see above) but nothing really after that.
Me the year I played t-ball
What do you do for exercise now?
Ummmm..... yeah um... nothing. Chase Ryder around? Ask me this last year and I would tell you I was working out 3 times a week, hour long boot camp style workout, and running at least 3 miles every Saturday. Then summer hit and I didn't feel like dragging all my kids to work out. Then school started again and yea I just never got back to it. Need to recommit!
Would you rather exercise or diet?
Exercise for sure! I love food too much. Plus I have the hardest time wanting to work out but I never regret doing it and feel so good after the fact.
If you didn't have to worry about calories or fat, what one food would you eat ad nauseam?
Cheese- any kind of cheese on just about everything and by itself.
Did you play any sports as a kid?