Sometimes I kind of forget where I live, no I don't get lost and can't find my house or anything like that, I forget that I live in a state and a part of the state that a lot of people like to come to. A place where people save up their hard earned money to come for a once in a life time visit-- and it is in my backyard!
Now before you all go on hating me for where I live, trust me there are a lot of downsides too; extremely expensive, completely bankrupt state with crazy politics, etc. etc.
But, when one of those people who saved up some money to have an awesome vacation is your former college roommate and she gets to stop by my house because it is literally on their route to their destination (wow long run on sentence) then it is awesome!
Sunday, my Amy and her family stopped in for dinner and a visit. We had a great dinner (thanks to my husband for cooking it all while I was at a meeting)
The kids all played so wonderfully.
My kids and Amy's kids - check out the curls on Amy's oldest, just like Ryder!
...And I got to see my Amy!
The time went way too fast, she wanted to spend the night (and I happily would have let her) but her husband didn't really feel like taking all the kids to their vacation rental himself and putting them all to bed- party pooper!
I have to be honest, I really am not the best at keeping in touch with Amy, other than facebook and instragram, no weekly phone calls or anything, but when I saw her it felt like no time had passed at all- we were ready to
put on our pajamas and go running again
!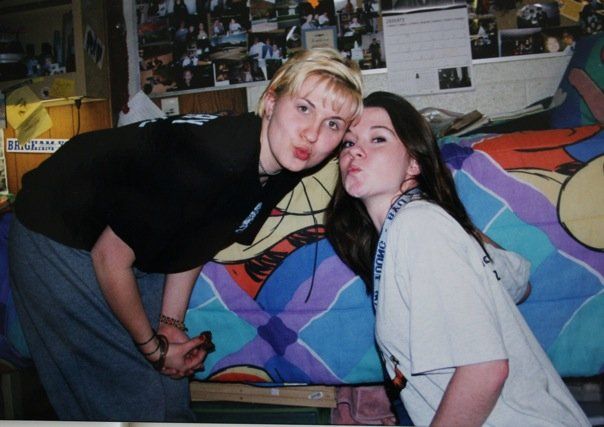 Amy and I freshmen year of college in our pajamas ready to go for a run
So yes, this weekend I was very grateful for one of the many benefits of living in Southern California. Do you live in a vacation destination location?