"Okay that is all we need; let's go pay." I said to Ryder as we walked to the checkout.
I loaded my items on the conveyor belt. I made small talk with the cashier and Ryder pointed out the balloons hanging on the wall. My items were almost done being scanned. I was caught up in watching the order and talking to Ryder. Out of the corner of my eye I saw movement behind me.
There bending me was a man with a long shaggy beard, torn and tattered clothes, and who very obviously hadn't showered in long time. I turned back to the cashier and continued our small talk. Out of the corner of my eye I couldn't help but notice the man's purchase, some beef sticks, a bottle of water and a few other items.
I swiped my card, my purchase complete. Then I paused.
"I would like to pay for his purchase too." I told the cashier.
"Are you sure?" she questioned.
"Yes. I am." I simply stated.
She scanned his items and I swept my card again. I gathered the bag of his simple possessions.
"Here you go Sir, Merry Christmas" I said really looking at him for the first time. At that moment time seemed to pause. For just a brief moment he looked back at me, looking me directly in the eyes and in that moment I saw so much more.
I saw past the dirt, past the beard and clothes, for that moment I saw him as our Heavenly Father sees him, as a child of God. He simply took his bag, not saying a thing and walked away.
At that moment I knew what my word for 2014 was going to be,
aware
.
Aware of those around me, aware of how my kids and family are really doing and what they may need, aware of my own needs and that I am taking care of myself too.
Too often I speed through life, just trying to get the next thing done, how many things, how many people do I miss. No longer, I am going to be aware.
This moment is also my final
Heartfelt Act of 2013
.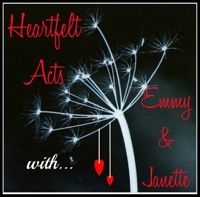 I have had some great experiences in hosting Heartfelt Acts with
Janette
; times where I have made the extra effort to go out and spread a little more goodness, a little more kindness in the world.
As I left the dollar store that day; a lady near the exit said "that was really nice of you."
"Thank you, this world needs a little more kindness." I replied.
Spreading goodness and kindness one heartfelt act at a time... one moment where I was aware.
What is your word for 2014?
If you have done any heartfelt acts, you can link up below.