Yesterday was Groundhog Day. Much to the dismay of probably everyone in the Midwest and East Coast (well other than snow plow companies), he saw his shadow predicting 6 more weeks of winter.
In the movie Groundhog Day, Bill Murray has to live the day over and over until he gets it right; for me I wouldn't mind living a certain groundhog day over and over.
Thirteen years ago, on Groundhog day Eric proposed.
I knew it was coming, we already had the room in
the Temple
reserved and my mom was flying to Utah to take me wedding dress shopping, Eric just hadn't officially asked me. I
threatened
warned him that I had better have a ring on my finger before my mom made it out there.
It was a Friday night, we already had plans for a big group date. Eric had previously ordered my ring, unknown to me at the time, and it ended up being ready that day. He was so excited to finally officially ask me but knew I would suspect something if he changed the plans we already had.
We went on our big group date playing lazer tag. I won receiving the highest score overall. The group then went to a restaurant and ordered gelato. It was yummy and by the time we made it back to Eric's apartment I was worn out, ready to call it a night.
He said, no you can't be tired yet we have to go do something else and somehow talked me into one more outing.
We went with his roommate Brad and his girlfriend and crashed a dance at the Institute Building at UVSC (now UVSU). We danced, had fun and then he asked me to go take a tour of the building with him. We walked around, I began to wonder what he was up to. Finally he said, let's go outside. I protested as it was February in Utah. (During the "tour" he was looking for someplace more private but there were people everywhere) As we walked outside and I complained about the cold he told me to imagine we were on a warm beach and the sun was shining, then he got down on one knee told me he loved me and he wanted to spend eternity with me. I of course said yes.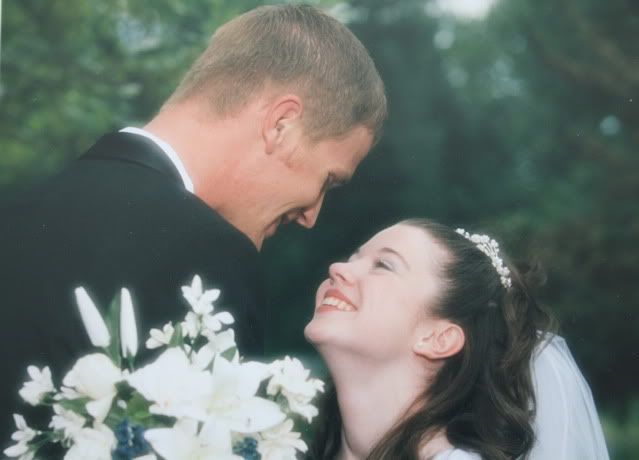 Our Wedding Day
It was a great Groundhog day and while I don't need to relive it to get it right, as I know I got it right the first time, it would be fun to be able to replay that moment.
Is there a moment you wish you could relive?