Friday 5 Time! (#Friday5) Sharing 5 Thoughts and 5 Pictures from the week. Join in this weekly fun and easy meme. Each week I have a new guest co-host. If you would like to co-host e-mail me at emmy (at) emmymom2 (dot) com.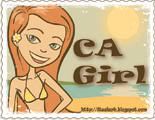 This week my co-host is my bestie and cousin-in-law
CA Girl, or Lourie
.
I met Lourie when my family first moved to California over 5 years ago. She and Eric are cousins so we got together, our boys (Lucas and Ryan) got along so good and had so much fun together, that we got together again for another playdate, and again... and again. Before we knew it we were scheduling the playdates for us not the boys.
I asked Lourie 5 questions
1. When did you start blogging?

Five years ago, but technically it was 7. The blog was created in 2007 as a travel log for our move across the country. I wasn't faithful to it. Then I met Emmy, and I got inspired. Now I need to get back into it!
2. What is your biggest pet peeve?

Selfishness. There is so much of it in the world today. It's all about ME! Not really, it's more about how we can lift one another and serve. That and I have terrible road rage.
3. If you could have one super power what would it be?

I used to say invisibility, but apparently this is old school. I think I would have to choose the next best thing and pick shape-shifting. Imagine the chaos and mischief you could create with that! Eheheheheh.
4. What is your dream for your kids?

For Kristin to be the movie star she aspires to be. She can also be a great teacher and wonderful mother. For Emily I want her to find her niche in art. She has a very beautiful soul. She could touch many people with her work. For Ryan he will be a great speaker, debater, and has the potential to teach the gospel far and wide. I can see it, I just have to harvest it.
5. Read any good books lately? What is a book you will always love?

LOL! Oh you are serious. So I bought Divergent back on Valentine's Day. Haven't read it. I will. I will always love: Harry Potter. He's my favorite kid. After that, Charlotte's Web.
You can find Lourie at the following spots:
Her blog
//
Instagram
//
Pinterest
//
Twitter
5 Things
1. As you saw from
Wednesday's post
, I did a photo shoot at the beach. I actually took my nieces Senior pictures. First, I cannot believe she is graduating this year, I used to babysit her when she was just a baby! Second it was so much fun! I love photographing newborns and do a lot of young kids, I sometimes forget how nice it is to photograph someone who listens to everything you say.
2. As much as I loved spring break there is something good about getting back into the routine of things... though it would be nice to have a few less things to do everyday between school, homework and soccer practice.
3. I sat through several what felt like mind-numbing games of Hi-Ho-Cherri-o with Ryder, but then when I found out as Eric was tucking him in bed he told daddy all about how we played it with me. It helped me remember how truly wonderful and important those simple little things are.
4. It rained again on Wednesday! That is actually a great wonderful thing, what wasn't great is that we still had soccer practice. It was literally pouring as we drove to practice, but no rain during it, just freezing cold! Thankfully I brought some blankets to wrap up in.
5. I discovered I can do surprisingly well on 4 hours of sleep. This weekend I went to Time Out For Women in Long Beach. I actually worked the event and took tickets at the door. The event was Friday evening and most of the day Saturday. Rather than make the drive early Saturday morning, I stayed in a hotel with a couple of friends. After our late night Del Taco run (none of us had dinner before) we ended up staying up until 2:00 AM, only to have to be up at 6 the next morning. I even managed to stay awake during all of church on Sunday. The conference was truly wonderful and the perfect recharge I needed.
5 Pictures
My defender
Pictures from my Time Out For Women weekend
Saw Divergent Saturday night with Eric
Link up with Lourie and I and share your Friday 5!