This post contains affiliate links
I love reading. Some people read to learn things, some read just for fun, I read to get lost, get lost in a book, lost in a different world for just a bit of time. I usually am not a very harsh critic and tend to like most of what I read, but there are very few books that make my "Can't Put Down List". In 2015 according to
Goodreads
, I read 18 books (which was below my goal- whoops!) of those 18 books, only three made my Can't Put It Down List.
My Can't Put Down Books of 2015 (in order that I read them)
1. Quantum Deception
by Denver Acey
The Book:
What starts out as a calm night in Salt Lake City turns into chaos when a passenger plane crashes into
the mountains. When reformed cyber hacker Tanner Stone links the accident to an ingenious Chinese computer virus, it's up to him to prevent it from destroying the financial data of everyone in America! Thrilling, explosive, and packed with twists, this book changes everything you know about Internet security.
My Review:
This is the second book in the series and I enjoyed this one just as much as the first. This book could be read as a stand alone book, but to get a little more back history you will want to read the books in order. I love how the book has enough technical aspects (super computers, viruses, etc) and layers and levels to make it feel truly believable and like an attack that could happen on the United States. I finished this book in less than a day as I wanted to find out what happens next and how things would be solved.
This book would make an incredible movie and is fun to read. The characters are likable and it all feels very real.
This book is also free of language, sexual content and graphic imagery or what I classify as a clean-book.
2. The Throne of David
by Ann Farnsworth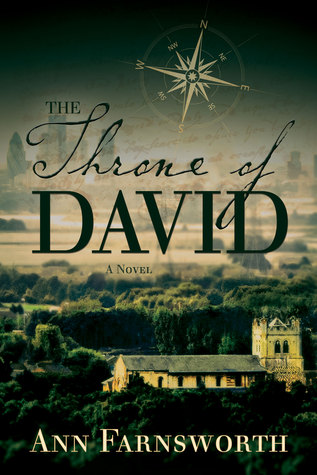 The Book:
When a series of secret letters throws the ascendancy line of the British throne into disarray, only one person can prove the rightful heir—and everything depends on a stone that's been lost for centuries. This high-stakes thriller leads you on a deadly chase around the world, following clues from King David. A mind-blowing mystery with an ending you'll have to read to believe!
My Review:
Right from the beginning this story drew me in. There is mystery and intrigue and a wonder of what truly happened. This book truly does feel like the Raider of the Lost Ark at times, with it's historical and religious history that ties into their search for a treasure or the truth. I am not a history or religious scholar, but it all felt very authentic and added greatly to the story.
There is murder, romance, mystery, suspense and even faith throughout this story. It really is very compelling and great read. There was also some great twists that I did not expect. I highly recommend this book. Even with all of the action and suspense the book is still what I classify as a clean book.
3. Soda Springs
by Carolyn Steele
The Book:
When Tessa Darrow discovers her father burning his Civil War uniform, she has no idea how his secret will devastate their family and drive them from their home in North Carolina. The family journeys along the Oregon Trail until tragedy strikes, leaving Tessa and her father to build a new life in Soda Springs, Idaho. This sweeping story illuminates an oft-forgotten era in LDS Church history. Filled with life and passion, it's a thrilling read for history buffs and romantics alike
My Review:
I was almost late getting my kids to school as I just wanted to keep reading, it is one of those page-turning books. I loved the pace of the book, the story moved along nicely but it pulled back just enough making me want to keep reading to hurry and find out what happens next.
As I read, I found myself transported back in time and wondered what life would really be like living as a pioneer. I love the honest feel to the story, everything doesn't work out perfectly and it feels real. It is a clean historical romance that will leave you smiling.
I definitely recommend this book.
Did you read a book you just couldn't put down? Please comment and share!