Disclaimer:
A birth story is about to follow, so if you hate these/they gross you out.. then well you might not want to read. Then again if you have a teenage daughter and you are wanting some good birth control, this might just do it.
October 2004
"Mom, you had better come out sooner. I was measuring really big today so they stripped my membranes, I will probably have Lucas any day now."
A week and a half later - my due date came and went. My mom and I walked around downtown Durango in hopes of helping this boy come out. After walking for a while, we were hot and tired. We went into Coldstone hoping for a drinking fountain. No such luck. The workers seeing me in my ready to burst state took pity on us and gave us each a cup of water. When is he going to come I wondered? Everything I had read about membranes being stripped said I should already have had this baby!
Two days past my due date... still waiting. During dinner I felt my stomach tighten up really hard, are these contractions? In my birthing class they said you would know when it was the real thing, what if I didn't?? After dinner we played some games with my parents and then went to bed probably around 10:30. I lay down and my whole stomach and back seemed to get hard and tight, now this just might be the real thing. I lay there listening to Eric sleep peacefully wondering if there would be another. There was and then another.. and several minutes later another. I started watching the clock. About every 7 minutes. Holy cow this was it. I was beyond sleeping at this point, I lay there and watched the clock.. now every 5 minutes. Holy cow I was really finally going to have this baby. Shortly after midnight I woke up Eric. I told him I had been having contractions for the last two hours about every five minutes. Should we go? We wondered. I walked around for a while, the contractions seemed to be coming more frequently now. Finally around 2:30 AM we decided it was time to head in. It felt funny leaving our house in the middle of the night, almost like we were sneaking out. We left a note for my parents and drove to the hospital. The contractions were definitely consistent and strong but I wasn't screaming out in pain like you see on the shows.. what if they send me home??
After the examined me I was 4 cm dilated and definitely having consistent contractions so they admitted me. A nurse came in to get an IV line started for me just in case it was needed at some point. After three attempts she was finally able to get it right. And after her three attempts I was beginning to feel nauseous. 'I think I am going to get sick', I told her. She brought me a bucket just in time.
After my stomach settled, I lay back to work through the contractions. The walls were covered with this ugly wall paper with lots of little flowers. Any time a contraction came I starred at one of those little ugly flowers and just thought about it and concentrated on it. Eric sat by my side and tried to help me through the contractions but kept dozing off. I enviously looked at him and wished I could be sleeping too. Throughout the early morning I continued to progress; around 9:00 A.M I reached 9 cm.
My mom called and we told her I was close, so we would call after we had the baby. We wanted it just to be Eric and I there. 10:00 A.M.-still 9 cm. 11:00 AM- still 9 cm. Those flowers on the wall were starting to get holes in them from me starring them down so long. They decided it would be best to give me some pitocin to help get things going again. They then recommended that I walk around the hallways some. I did not want to walk around the hallways.. I was tired; I had never gone to sleep the night before so had now been up for over 24 hours. But I was a good little patient and I did. I held on the IV bag cart and pushed it up and down the hallway. Eric walked along side me.. after about the third time down the hallway I felt it again.. "I'm going to be sick!" I said to Eric. He took off running to our room while I stood there trying to hold in the vomit. He made it with the little bucket just in time. A nurse came hurrying over and held back my hair while I threw up in the hallway. After that I went back to my room, I was done walking back and forth.
Sometime in the afternoon, the Dr. came and said I was almost a full 10 and so let's try pushing to clear up what all remained. Well, it didn't work in fact it was having just the opposite affect so she told me to stop pushing. After that those little flowers didn't help much anymore. The contractions which I had been dealing with so well felt horrible, it had felt good to push and I just wanted to! "I want to push" I groaned to Eric with each contraction but they kept telling me not yet.
Finally, after dealing with that for 30 minutes or longer, they said it was time to push. This was it! I was soon going to have a baby. I figured maybe 20, 40 minutes if it was one of those horror stories of lots of pushing and I would be holding my little guy in my arms.
When the contractions came I pushed. Was I doing it right? It is not like this was something I had ever practiced. I passed several bowl movements while pushing so I must be doing something right. I pushed and I pushed. Why don't you try squatting and pushing, it was suggested. I did this. Push, push. His head was right there, you could see the top of his head at times. Now try on your hands and knees, try with your legs like this, etc., etc. etc. I had no idea how much time had passed but it was way more than 40 minutes. Why don't you roll over and try like this? I remember the nurse saying. I didn't want to, I didn't feel like I physically could turn over or move one more time. I was completely and 100% exhausted; but ever the good little patient, I did. The Dr. finally came back in... "she has been pushing for 4 hours." I heard the nurse report. 4 hours!! What happened to my 40 minutes worse case scenario?? They tried one last time to have me push while using a vacuum to help the process. I honestly don't know how well I pushed at that point as I had never been so exhausted in my life..... nothing. At this point I was not on any pain meds and so they didn't want to try anything else; it was decided it was time for a c-section.
I remember laying there as they wheeled me to the operating room; we passed my parents in the hallway who had come over to the hospital at some point in the afternoon. I did not care what happened at this point. I was too tired to care. I just wanted to be done, I just wanted to go to sleep, I just wanted this baby out of me. They began preparing me while the anesthesiologist talked with me about what would be happening. I lay there, my lower half completely numb, my arms strapped down. "I am going to be sick" I told him. He hurried to go find something, he didn't make it back in time. I turned my head and threw up all over my shoulder. They got me cleaned up as best they could and then they brought Eric in. I could feel pressure and movement on my lower half but no pain. And then I heard it, a little baby crying. "Oh someone just had a baby I thought" in my completely exhausted state. "Wait that was my baby!" The wrapped him up and brought him over for me to see. This was really my son! I couldn't believe it.
They took me to recovery were they gave me some oxygen as my levels were low, I began shaking uncontrollably, they gave me something for this and it soon stopped. I was so tired, sleep soon overcame me. I woke up and threw up one more time then was soon back to sleep. I woke up from time to time thinking, I need to nurse my son, but soon was back asleep. Finally I woke up enough that I felt like I was coherent. The brought me back to my room. I did not realize I had been in recovery for more than two hours. All that time Eric sat in the nursery refusing to put Lucas down, just holding him wondering where I was. They had told him I would be back in about 45 minutes, more than two hours later and he did not know what to do. The day I had Lucas, there must have been a full moon as every room in that hospital was filled so they kept me in recovery until a room finally opened up. (When they did the c-section they discovered that Lucas was sunny-side up--why they didn't realize this during the four hours of pushing is beyond me)
I finally got to hold Lucas for the first time.. I couldn't believe it, he was so cute! It was so unreal, was this little guy really mine?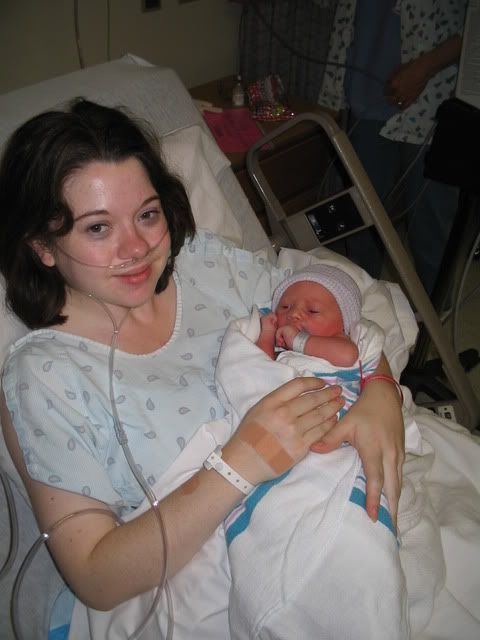 The worst picture of me you will ever see on this blog

Time passed, I recovered. I went to the Dr. for my six week check-up where she informed me that since I had pushed for so long when they finally did the c-section there was some tearing so I would not be a good candidate for a V-bac. I remember making it home from that appointment and broke down sobbing as I then felt like a failure for the first time. C-sections were not part of my plan for how I would have my children the rest of my life.
But time heals wounds and emotions and I have came to terms with the fact that it doesn't matter how I had the kids, I was just very blessed to be able to have children. And let me tell you, the second time around, no labor and a scheduled c-section is a completely different and wonderful experience.
And so, all of the above is why on July 1st at 7:30 A.M. I will be at the hospital welcoming number three into our lives. Oh yes, and June 30th I will be at the movies seeing
Eclipse
for one last night out before we are out-numbered.