Growing up I loved stories. I would read for hours and I would fill up notebooks writing my own stories; I thought when I grew up that I wanted to be an author. I still have this love for stories, and luckily so do my kids. We will go the library and get 20 books at a time and come home and sit down and read them all. Since Lucas was little this would be the one time that he would always sit still.
Not only do we like reading stories, but we like creating stories. Every night at dinner the kids will say "daddy tell us a story!" (You can watch one of the stories
here
) They often ask for a "spooky, spooky story", with monsters and ghosts and goblins or gobbles as Alex calls them. This has led to my kids creating their own stories.
So I figured, since they enjoy telling stories so much-why not teach them the correct terms and a little bit about the different aspects of stories. This week's
Time For Tot's
is a bit of an English lesson and a lot of creativity and is all about stories.
We began by reading a story that we got from the library,
No More Cookies
by Paeony Lewis, you can choose any story you like. After we read it I asked them who the characters in the story were and taught them what a character is. We then talked about settings and conflicts and resolutions. We talked about how all stories need these things and I gave more example using the stories that Eric tells at dinner.
We then created a character. We took turns listing traits for our character: red hair, green eyes, square head, triangle body, etc. After we had a good list, I read the list to the kids and they drew the picture of the character we created.
Then we talked about settings. We used the worksheet found
here
and the kids said what the setting was and what type of characters would be in that setting. At first I was writing down what they said but then I just let the kids tell me and didn't bother writing anything else.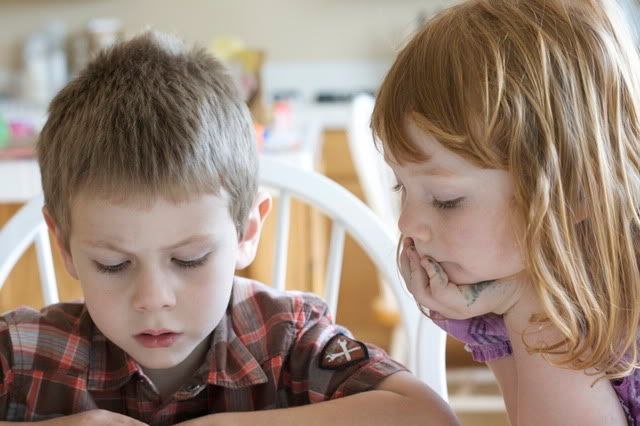 We then created a story by each adding a line. I began the story by saying one line then Alex added a line, than Lucas. Our story ended up being about a cat who used a ton of bricks to build a big tower which turned into bees so the cat had to run inside to be safe. You never know what you will get with kids.
Then we talked about how stories can be told in all different forms, by writing them down, just telling them, acting them out and even through dance. The kids each told a story
It was a fun morning and both were so excited to tell their stories. This day turned out wonderful as not only did they learn a few things but they were just able to create and use their imaginations, something kids do so well and easily.
----------------------------------------------------
Resources:
Setting/Character worksheet found on Lanternfish, or here, just select the setting and character link
Lists different parts of story and how to teach them on CoreyGreen.com or here
Inspiration for a lot of our activities came from Lesson Plan help, or here (This site was not working when I checked today--hopefully will be up again soon)