"Can we have a picnic?" I hear this question pretty much everyday. In our house picnics mean eating lunch in the family room while watching a show. I would usually lay out our
picnic blanket
, i.e. an old sheet, and the kids would enjoy their lunch. But well if you spill jelly from a PB& J sandwich on an old sheet, it soaks through.
So when I was able to get one of these
picnic blankets
, I was so excited! It is super soft on top and the best part, the back is lined with vinyl, so the jelly, well it doesn't make it through to the rug. It also folds up really easily into a small little bundle so it is so easy to put away and carry with. It is a bit on the smaller size so it wouldn't be good for more than four people; but for our everyday picnics it is perfect. And I am looking forward to using it at the beach for the first time this Saturday.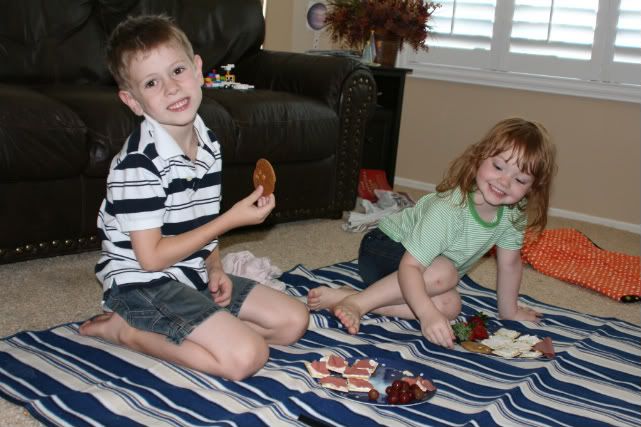 It has been a great mail week, not only did I get a vintage
baby scale I won on e-bay, but I also got a 4 slice toaster from the
CSNstores
. Lucas would eat his sweet toast, i.e. wheat toast (you can read about it why we call it that
here
)for breakfast everyday if I let him. He does eat it at least 4/7 days of the week. And often when he wants it, well then of course Alex does too. So when I saw this
toaster
, I got a little excited.
When I opened the box Lucas wanted us to use it immediately. We turned the settings down low and the toast quickly popped up. So we turned up the dial and toasted again. It toasted the bread so evenly, but it does cook a little on the underside if both sides are being used at the same time. It definitely did not burn the bread and cooked it so evenly. The slots are super big and could probably easily toast bagels; I need to buy some so I can test it out. Sometimes when I cook bread the corners do tend to curl in a little bit too. So while I am not drooling over this toaster anymore, which is good as water and electricity don't exactly mix, it is getting the job done.
So once again I was amazed at the selection of great products in the
CSN stores
and was very happy that they allowed me to review some products for them. Now I just need to go to their stores and order one of these
Mobi wraps
and I think I will be all set. This would be perfect with Ryder's reflux as that is how I have to keep him for about thirty minutes after he eats.
Oh and please don't forget,
tomorrow
is the day to link-up with your Ten Things to Smile About lists.
I have started writing mine, but I was writing it in the middle of the night while nursing, so there are a lot of ebfjvudj and other such nonsense in it, so I will need to do some work. See you tomorrow!