I hear the now all too familiar gasp and then the scream. I stumble out of bed swaying dangerously to one side. The exhaustion overcoming my ability to stand. Those times before midnight are the worst. The times when my body has just barely been enveloped in sweet peaceful sleep. I look into your bed, white curdled milk covers your nose and mouth. "Shhh, shhh breath", I plead as I rock you back and forth. This will be the first of several incidents in a row. A hour later when you are settled, fed and wrapped securely up I flop into bed too tired to pull the covers up over my body. I roll over and glare at the red glowing numbers of my clock. 1:05 A.M.
Okay just two hours, please give me just two hours. That's not too much to ask. This plea isn't only directed over to my sweet innocent child but upward to my Father in Heaven.
I hear a grunt, I can tell you are wiggling and awake, not screaming this time. I peer at the clock 3:07 AM. Okay, I say with a smile; two hours and two minutes. My plea was heard, my burden was lightened but not taken away. At that moment in the middle of the night, I was reminded of my Heavenly Father's love. He extends His arms towards us showing us little tender mercies along the way, but rarely fully taking it away. But that is a good thing.
It is through my trials that I have developed empathy, developed compassion and the ability to walk in someone else's shoes, if even just for a short time. It is through trials that I have learned my complete and total dependence upon Him. It is through trials that I remember that there is so much more than just this life and that I have a great purpose and roll to strive for. I am far from perfect, I have a long way to go and I will never make it without Him.
3:07 AM
Now that is a good time of night.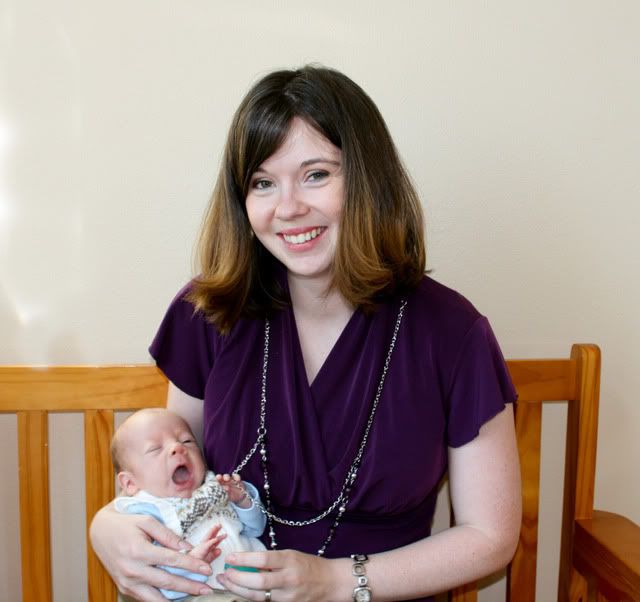 We took Ryder to church for the first time yesterday