This is the recipe I submitted this month for the
Cooking Club
and we loved it!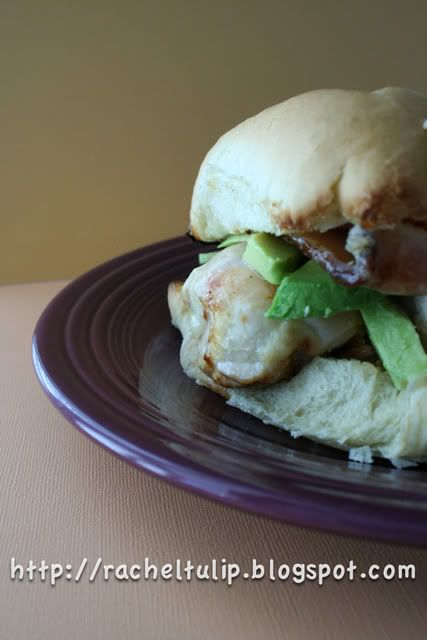 I found this on Allrecipes.com.com.
"BBQ sauce and bacon are the secrets to the wonderful flavor of the chicken in this sandwich. Add avocado and cheese, and how can you go wrong? Makes a hearty lunch by itself or serve with salad or french fries for a delicious dinner."
Dan's Favorite Chicken Sandwhich
Submitted by Angelshark on Allrecipes.com
2 skinless, boneless chicken breast

halves

2 tablespoons barbeque sauce

4 slices bacon

2 hoagie rolls, split lengthwise

2 tablespoons Ranch dressing

4 slices Swiss cheese

1 small avocado - peeled, pitted and

diced
Directions:
1. Preheat oven to 375 degrees F (190 degrees C). Coat a baking dish with cooking spray. Brush both sides of each chicken breast with barbeque sauce and place in the baking dish. Top each breast with 2 slices bacon.
2. Bake chicken 25 minutes in the preheated oven, until juices run clear. Drain bacon strips on paper towels, and slice breasts in half lengthwise.
3. Heat the oven broiler. Spread both halves of each hoagie roll with Ranch dressing. Place 2 breast halves on one half of each roll. Place 2 strips of bacon on each remaining roll half. Top each half with 1 slice Swiss cheese.
4. Arrange sandwich halves on the baking sheet, and broil 2 to 5 minutes, until the cheese is melted and bubbly. Layer chicken halves of sandwiches with avocado slices, and top with bacon halves to serve.
Our Alterations:
(faster cooking method)
-We used Tyson Precooked chicken strips and simply heated as instructed on bag, about 8 minutes total. While those were heating we cooked the bacon on the stove. After that we followed the directions as stated.