Sometimes life is such that you really wish you could thank people (insert sarcasm here) for their "wonderful help". Well every Thursday, Kmama of
The Daily Dribbles
lets us link up and do just that. So here I go.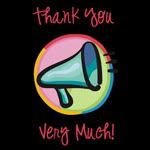 To the nurse who gave Ryder his shots-
Thank you very much for coming and giving my son his immunizations. They truly are important and I was worried about them, especially since his little legs are so so small. I was so happy that Ryder took it like a man only crying when you were sticking him and then immediately stopping. You were impressed with it, we bonded over how great he did and you left... and then I saw the blood. What the heck!?! Thank you for totally jerking the needle or doing who knows what to leave massive amounts of blood all over his little leg seeping into his diaper. Thank you for having the decency to admit your mistake..... oh wait you didn't. Thank you for having left the room before I saw the blood so I could keep my profanity-free streak going, which is rather long now thank-you-very-much. So thank you, but if you ever step foot near my son with a needle again, well we will see who ends up bleeding.
Sincerely,
The mean Mama Bear
To the pharmacy which will remain nameless (cough cough Rite Aid)-
Thank you so much for not being able to fill my son's prescription. I really like making him suffer and be in pain. And I understand that sometimes there are meds that you can't get, but does it really take you an entire day to figure that out? So thank you, thank you for making him suffer and have a twenty-minute reflux incident. And to show you how thankful I am, here is a one-minute clip of that incident that lasted for twenty minutes.
Thanks-
The mom who is finding a new pharmacy
To the Mom at the Doctors-
Thank you very much for going to the same doctor as me. Don't you love how there are two completely separate entrances depending on if your child is well or sick? It really does help protect the healthy children there for their well checks. So thank you
so much
for bringing your son for his well check-as well as his brother, who has croup to the well side waiting room. Let's just say, I am very thankful we were just leaving as you were arriving, so once again I could maintain my profanity free streak.
Thanks-
The mom with the premature baby
To My Son Ryder's Reflux-
You are not welcome! Go away. I am not even going to pretend to thank you for anything as I hate you. Just watch the above video again. I hate you, hate you, hate you.
Thanks-
The mom who loves her son to pieces