Once again I am linking up over at the Daily Dribbles for
Thank You Very Much
letters.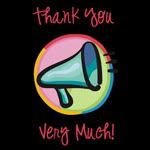 Dear Lady From the Hospital-
Thank you very much for calling to see if I was ready for my scheduled c-section. And thank you so much for listening so closely as I explained that it would no longer be necessary since Ryder was
born 8 weeks early
. And I would especially like to thank you for not believing a word I said and telling me "I am going to call your doctor and tell her what you said". I am beginning to understand why your facility is losing their funding with
wonderful and understanding
staff like you.
Thanks-
The Amused Mama who Really Did have her baby
Dear June Gloom-
Sometimes you are a wonderful thing; after all you do keep the temperatures lower, but you see Lucas is in swim lessons at 10:00 A.M. and I am already having to use
bribery
positive reinforcement to get him to go; so when you make it all cloudy and only 65 degrees out, well heck I wouldn't even want to get in the pool. By the way, in case you didn't notice, it is July. Time to go away.
Thanks-
The mom who is tired of Making her Son Freeze
To Lucas-
Thank you very much for making me think of new ways to
bribe
motivate you to go to swim lessons every single day. Thank you for making our mornings so
stressful and uncertain
eventful. I know it is cold, I am trying to do something about that, see my above letter. I realize you are probably not going to be able to swim by the end of the lessons as that would require keeping your face in the water for more than one second; but sorry kid this stubborn mama is going to win. Now it is a matter or principle and helping you finish something you start
even if it means rewarding you with that Lego Train you want.
Thanks-
The Tired of having to Bribe her son Mama
To the Earthquake Yesterday-
Thanks for the good little scare and reminder that I need to restock up on my TP. And thank you for not making the TV fall over, though you did shake it good. Let's just keep 'em small though, okay?
Thanks-
The new to this whole earthquake thing girl