Yesterday was Lucas' first day of kindergarten. We were excited and nervous. Eric woke me before he left as I knew I would need the extra time to get ready as you never know what Ryder is going to do.
Alex woke up while I was getting ready. I finished getting ready then went in and woke Lucas up. He was sleepy but soon was jumping out of bed as he was excited to go and did not want to be late. I got the kids dressed, they ate their breakfasts. Lucas grabbed his backpack we took a few pictures then were out the door. We got to the school and he headed to the playground. He immediately found his friend Madison and they began to play.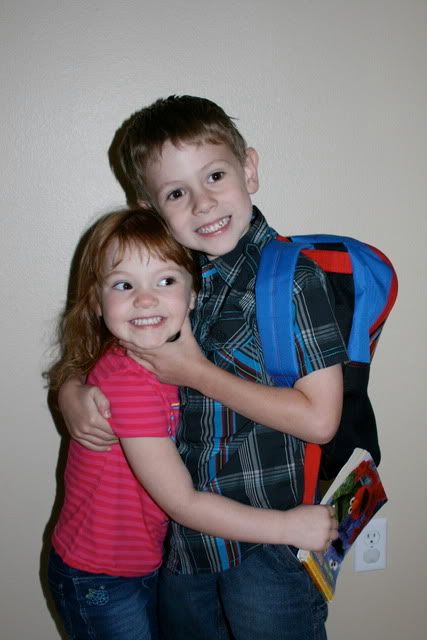 The bell rang and all the kids lined up. He was literally a head taller than everyone in line. He waved goodbye and was into the classroom.
If you read the title you are probably think, uh-oh the tears are about to start now from the mom.
But nope, I was good. In fact I was so busy hurrying off to Ryder's next GI doctor appointment that I didn't really have time to stop and think about it all. Ryder's appointment was 40 minutes away and thanks to some highway closures and school traffic we were a few minutes late.
But his appointment went well, he got a refill for his medication and then we headed back home. About halfway home, Ryder was done he needed to eat right then. So I exited the highway and found a shopping center parking lot to park in and feed him. By the time he was done eating we were pushing it really close time wise. I may have broken the speed limit a bit hurrying home. I would never forgive myself if I was late picking him up on his first day of school. I could just picture all of the other kids leaving and Lucas still sitting there. Talk about mommy guilt!
But we made it! The mass of parents went up to the gate and they released the kids one at a time to the parents. I'm Lucas' mom I said to his teacher.
"Okay, Lucas you can go."
He didn't budge.
He just sat there, his mouth turning down.
"Come on Lucas you can go." I said.
He put his head down on his knees, occasionally looking up at me his eyes red with tears.
The rest of the kids were all soon gone.
There was Lucas sitting there all by himself.
Lucas at this point had his back turned to me and would not come. They invited me in the gate.
"I don't want to go!! I want to stay at school!" he said while sobbing. All of the teachers had a good laugh. I assured him he could come back the next day and told him that everyone was gone so he would be there all by himself.
He continued to sit and cry.
Finally I had to just walk away; he then of course came running after me screaming, "no mommy! Don't go, I want to stay!"
We got out of the gate and continued the whole way to the van like this.. I would take a few steps, he would come running and screaming grabbing onto my leg. My face turning more and more red with every step.
We finally made it to the van and he eventually got in his seat and got buckled in. He was sent to his room immediately upon arriving home.
After he had time to settle down, I was able to get to the bottom of the tears. It turns out when they were in the library he was raising his hand as he wanted to tell his teacher something. She did not see him (all of the kindergarten classes go to the library the last 30 minutes of school as they afternoon classes have started). So he did not want to leave as he had not been able to tell his teacher what he wanted to.
My poor little boy with the sensitive heart of gold... good thing he is bigger than the rest of the kids.
Did your kids cry their first day?