First things first, I almost forgot to draw a winner for the
Plenitful Pantry
giveaway, after taking out the few entries that didn't count and going to random.org the winner is
Sonya from
A Day in the Life
. So congrats! Sonya please email me at emmy (at) emmymom2 (dot) com so I can get Plentiful Pantries your mailing address...
And now back to my post:
How come on the days you are the busiest something else is added on?
Yesterday when I had a very long list, I decided to add taking Alex to the doctor.
You see last week she and Lucas decided it would be a good idea to sword fight with pencils, unsharpened pencils-I am not that bad of a mom.
Actually, I didn't like the idea at all and when I saw them running into the living room both wielding pencils, I hollered after them, "what are you two doing?" to which I got the reply of Alex screaming and crying as Lucas jabbed her right next to the mouth.
Needless to say, mama bear came out.
So all weekend Alex had this nasty red spot next to her mouth which wasn't getting better and just looked more and more suspicious. So today I took her to the doctor. We got to sit in the overly crowded germ infested waiting room; I wanted to tell my kids not to breath. When it was finally our turn, my suspicion was confirmed a staph infection. And did I mention that this week is my little sister's wedding and my entire family is going to be together for the first time in... well probably ten years and so we are getting a picture taken, not to mention all of the wedding pictures.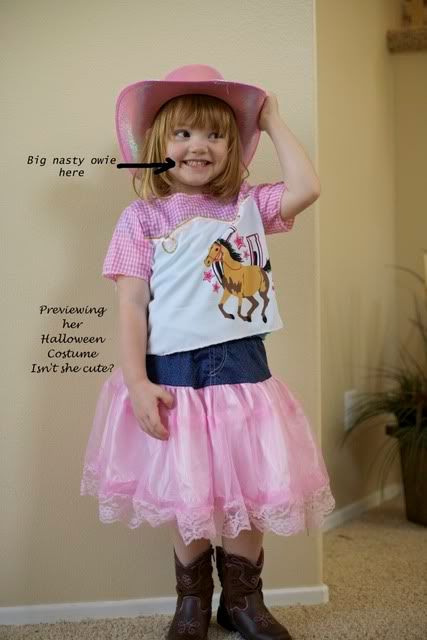 So here is hoping that the medicine she now has for it clears it up fast! I'm not the one taking the pictures, other wise I could totally just photoshop it. But I don't work on or steal other people's pictures, so not cool. Sorry- getting on my pedestal for a minute, today I saw someone on facebook who's profiles picture is a picture they stole from a photographer. How do I know they stole it? The watermarks all across their face make it pretty obvious... and the sides of the computer screen that show in the picture as they literally look a picture of their online gallery also make it obvious.
So here's hoping for a miracle or a really good band aid.
Today I am off to my cousins to take picture of her precious brand new baby. Here's hoping I don't get peed on.