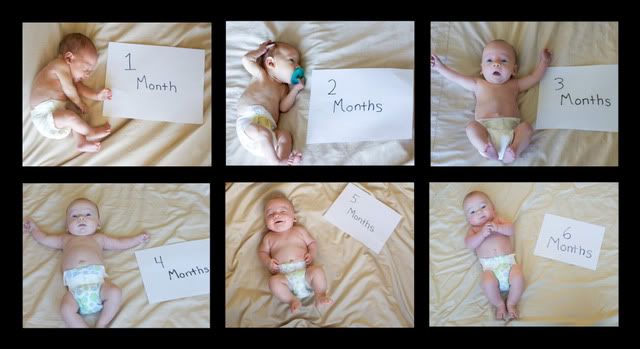 On Sunday Ryder turned six months old! I cannot believe he is this old already. Here are a few facts about Ryder at six months:
He loves "talking" all the time and has recently discovered this high pitch cat like noise he loves to make.
He pretty much sleeps through the night.. some night he sleeps 8-6:40, other nights he wakes up once around 4:00 AM and eats then goes right back to sleep until 8:00 A.M.
He is peeing out of his size 2 diapers all of the time- I think it is time to switch him.
He is getting closer to being able to sit up. If I put him in the tri-pod position he can sit for about 10-20 seconds.
He is getting better at eating his cereal at mealtime-but mostly he likes to eat his bib by pulling it up over his face--which results in cereal in his eyes.
He LOVES his brother and sister and sticks him arms straight out, in the looks like he can fly fashion, whenever he sees them.
He can roll over from his belly to his back on his own, and can go the other way, with a teeny push from me.
When I ask him to give me a kiss he will happily comply by sucking on my cheek.

And finally, he is just always so happy and really such a great natured baby.
And well of course, I took his picture. I cannot believe how much he has grown, since that crazy day in May when he was born two months early. (You can Read about his Premature Birth
here.)
Or click the "baby" tab on the sidebar.
And well, this post is quite timely as today is The March of Dimes Prematurity Awareness Day. We still have no idea why Ryder came 8 weeks early. All I know is I will be eternally grateful for the care both he and I received. I cannot imagine not having him in my life. Thank you to all the doctors and nurses who took the time to study and learn and make discoveries that have made it possible for me to have my perfect little guy today.
And here are a few favorites from his six month shoot.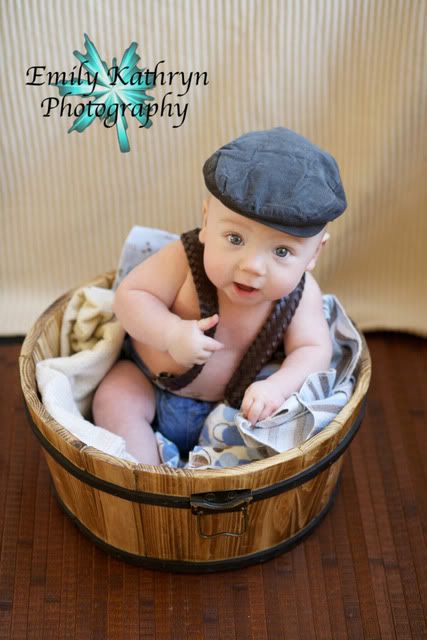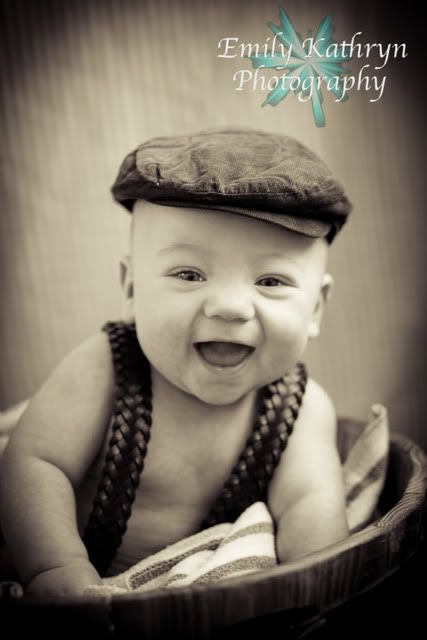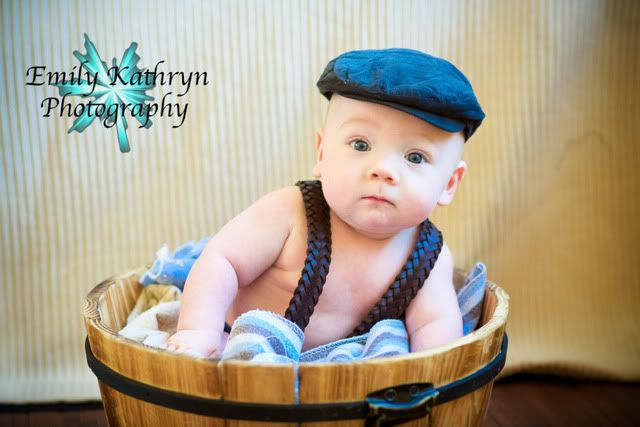 And yes the first and last picture are the same.. I just like it so much and couldn't decide if I like it in color or brown/black and white better.
And don't worry... all who entered the CSN giveaway, I didn't forget about you either. The winner is..... drum roll....
Colleen
, who said "I would go to Italy". Congrats! Colleen please email me your info at emmy (at) emmymom2 (dot) com.
Thanks to all who entered!