Since the month is more than half over, I figured I had better review October's cooking Club Recipes. You can always click on the name of the recipe to take you to the recipe.
1)
Cherry Pizza Tomato Margherita
Submitted by Rachel
Rachel:
"
I found the fresh mozzarella to be too pricey for m
y liking, so I just used 8 oz. of whole-milk kind. It was still good. I'm sure the fresh would make it even better, but I'm too cheap."

Melidee:

"
So tasty to me. I have never saute-ed tomatoes like that, they cooked down with such a rich flavor. I found it finger lickin' delicious! I just used regular moz Cheese and didn't buy the fancy stuff. That was a great way to enjoy pizza ingredients, put together in an interesting way."
Raelynn:
"We absolutely loved the pizza. Sam and I were "fighting" over the last piece. I thought it looked and smelled delicious. And after picking off the "green" stuff it was very well received by all. The problem was the cost added up quick. After buying the crust, cherry tomatoes, mozzarella (I did buy a ball), and basil it cost more than having a pizza delivered. So while it was a good recipe, I probably won't make it again anytime soon."
Me:
"We too loved the pizza, in fact much more than I thought I would. I didn't measure the red pepper, just sort of threw it in, so I might have got too much so some bites had a bit of a kick for me but this made Eric love it even more. I made homemade dough and then split it in half, and the kids used half just to make their own pizzas as well. I loved buying the fresh mozzarella and used the rest all up over the next several days."
RECAP:
3/5 Stars- Pretty easy to make and really yummy just too expensive to be worth it
2)
Spicy Open-faced Egg Sandwiches
submitted by me



Rachel:

"
I love simple recipes. I considered buying the pepper, but when I read the little sign at the grocery store that said you needed to cut them with gloves on and don't touch your eyes etc, I became a chicken and bought a zucchini instead! I really like them though, with the goat cheese. I thought they were really good. I'll make them again, for sure!"
Melidee:
"I used zucchini in it. Dad thought it was fantastic, he is not usually one for zucchini, but his comment was, WOW...I like zucchini cooked in something like this. This made me happy because I really like it a lot."
Raelynn:
"It was super easy, which was super nice! I also used zucchini, though I do buy poblanos quite often for other recipes. I thought it was a yummy combo to put the eggs on the cheesy bread."
Me:
"I just scrambled up some regular eggs for the kids and made these for Eric and I... which is a good thing as we ate all of them ourselves and there would not have been any for the kids. So so yummy!"
RECAP:
4/5 Stars Cheap, fast, easy-but most did the zucchini alternate-not totally kid friendly either.
3) Curry Chicken Salad
submitted by Raelynn
Rachel:
"I'm not a huge fan of celery, but the total combination went together really well. Todd was teasing me while watching me make it that he was going to take the kids to McDonald's, but then ended up eating two sandwiches. I just made the kids grilled cheese. Todd ended up saying that while he'd never make it himself or order it, he thought it was good. I really loved it and was happy to eat the leftovers for lunch the next day."
Melidee:
"I cooked the chicken yesterday so it was quick to assemble. I love raisins and curry together. I must confess again, that I only put in half the curry it called for, but it was enough for me, and I really enjoyed it. I found myself wishing it had apple chunks in it too. Good flavors. Yummy chicken salad!"
Raelynn:
"I really liked this. Sam was surprised by how tasty it was. In fact, I made it and loved it so much, that I made it again and brought it to our ward pot-luck. I also love raisins in things like this, so I loved that addition. It is easy too, especially if you have some chicken already. I used hot curry powder and it gave the salad a kick, which I liked, too. Not that kid friendly, unfortunately. Kate ate plain chicken and some melted cheese on her roll."
Me:
"This had the potential of being really good.. if I had cut the celery in half. Neither Eric nor I are big celery fans and it definitely was a very dominate taste and texture."
READER REVIEW:
My loyal cooker
Mrs. Bird
made this recipe (visit
her blog
and show her some love!) She said: "Coming back to tell you I tried this out last night! YUMMY!!! I think I will add some type of nut next time, but I will making this recipe A LOT. Thanks!"
RECAP:
3.5/5 Stars- If you like celery you will like this recipe, if not-cut down on the celery and try it out. Not too kid friendly.
4)
Oven Meatball Stew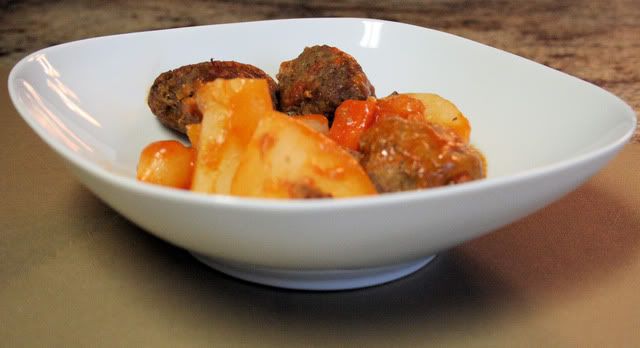 submitted by Melidee
Rachel:

"
I liked it a lot. Todd ate a ton for dinner and the rest for lunch the next day. He doesn't usually eat leftovers so I was kind of bummed that I didn't get to eat them. Madeline enjoyed it too, minus the potatoes. It came together for me in about 30 minutes and it makes me happy when I have a dinner that has to bake because I can clean the kitchen while it's cooking and then when we eat, the kitchen is nice and clean and clean up after we've eaten is super easy and quick."
Melidee:
"I actually like how it turned out. It was very delicious and I actually like this type of meal where the prep is all done ahead and then you have an hour before it's time to eat. Dad thought it seemed like a "normal" dinner, you know, the kind he likes. The colors in the pot were beautiful to see, very pretty for Fall."
Raelynn:
"We all liked the meatball stew, too, though it was more labor intensive. I thought it was a really good meal because we all got our protein and veggies in one pot and it was very 1-year-old friendly. I loved putting peppers and onions in the meatballs and Kate didn't even notice! My only criticism is that I didn't love the tomato juice for a sauce. Although I did use a combo of spicy V-8 and tomato juice it still seemed somewhat 1-dimensional. I would change the sauce slightly if I made it again."
Me:
"This was one of those recipes I saw and said... hmmm, not really a stew person. But I LOVED it. Lucas and Alex both liked it, especially the potatoes "with the sauce on it" as Alex said. I am definitely going to make this again. I loved the taste of it and really didn't think it was too hard, just takes some time."
READER REVIEW:
Mrs. Bird also made this one and said: " It was a BIG hit with everyone. Kiddos included!"
RECAP:
4.5/5 STARS A little time consuming, but so yummy and kids even like it!
**********************

It was another great month. A few definite keepers for me, like the stew. And it really is always fun to make something new.