I am linking up today with Shell's meme Pour Your Heart Out. If you have not seen
her blog
, definitely check it out-she is one of my must reads.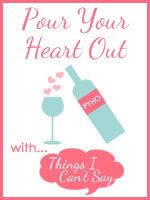 A lump is rising in my throat. My stomach feels like it's doing a dance. But I have to mask all this. I have to be essence of calm and peace.
Why?
Because I am at the dentist. It's not my appointment but an appointment for Lucas.
The last time we went to the dentist it was an awful experience. They had me leave so they could "get tough with him". And I got to sit in the lobby listening to him scream bloody murder and hearing all of the other parents remarks of who's child is that?
Needless to say we are at a different dentist now. It was past time for another cleaning and he has two adult teeth poking through and the baby teeth are just barely loose.
I told him if he gets nervous to just think about the new Legos we are going to go buy him after his appointment if he does good. Bribery/awards whatever you want to call it-it will hopefully help take the edge off.
He is back being seen. I don't hear any screaming so far.. They haven't come and got me saying he isn't cooperating.
The lump slides back down a little...the dance in my stomach slows.
I continue to project the essence of calm while I wait...
Wait to see...
********************************

I wrote this while sitting at the dentist office last week. I am happy to say it was a much better experience. Tomorrow we are heading back to the dentist. Those barely loose baby teeth- are going to be pulled. So I'm putting my game face on again, wish me luck.
*****And don't forget about
Fix It For Me Wednesday
where I edited and fix a picture and tell you what I did to fix it-it can be seen on
my other blog here
. Also, don't forget, if you email me a picture I will fix your picture for you as part of my Fix it For me Wednesdays! Check it out!