It's time again!
Time for the Status Quote. This is a monthly meme that CA Girl and I cohost. All you have to do is copy those funny, weird, interesting Facebook (or Twitter) status of you or your friends and come back and share. You don't have to tell who said it. And then you have a fun easy post.
So grab the button and link up below. And don't forget to visit a few others on the list to see the funny things they shared.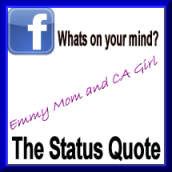 "

Lol! I can totally see some

artist

making a building like this someday.



"NEVER try to self-diagnose online. Almost always ends up making you think you're dying. WebMD should just be renamed "EnjoyYourCancer.com".
LOL!! Gotta love the things kids say (and look you know who-you made it!!)
"

This is my Eric and I was the recipient of this battle :)



"Preparing for my life of crime. Altered my finger print by burning it on the waffle iron today.
"
Might be a bit proud of this one.. since it was my own :)
It was almost worth burning my finger just to have a creative status
Amen sister, Amen!
--
LOL!! Okay this is from my BIL, I already had my post ready to go, but when I saw this just had to come add it.
See how fun and easy that is! So grab the button and link up below.