I was lucky enough to be able to participate in
Mamarazzi's
Your Favorite Thing Swap
I was linked up with another blogger who I was supposed to send my favorite things to. Mamarazzi linked me up with
Rachel
the self proclaimed Kooky Queen.
I had never read Rachel's blog before and so ventured over there and totally enjoyed everything I read. She hasn't been blogging as much lately as she just has a brand new little guy (if I lived closer I would totally want to take his picture-so cute!).
And I remember all too well that life with a newborn is tiring -which ended up being a big theme of the package that Rachel sent me.
I was very excited when I opened and saw all of these cutely wrapped presents and of course I opened them right away. Rachel attached a little message to each telling why she sent it and why she likes it.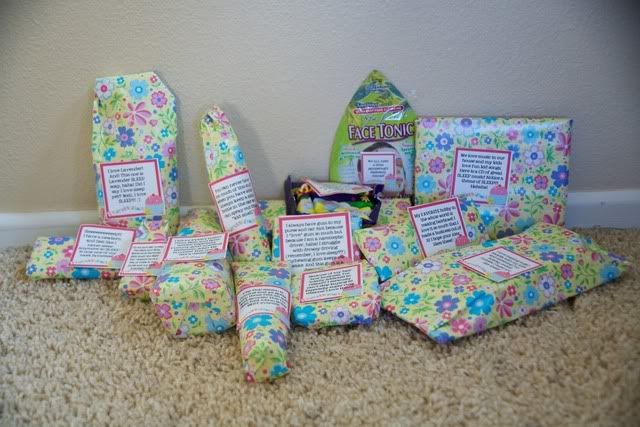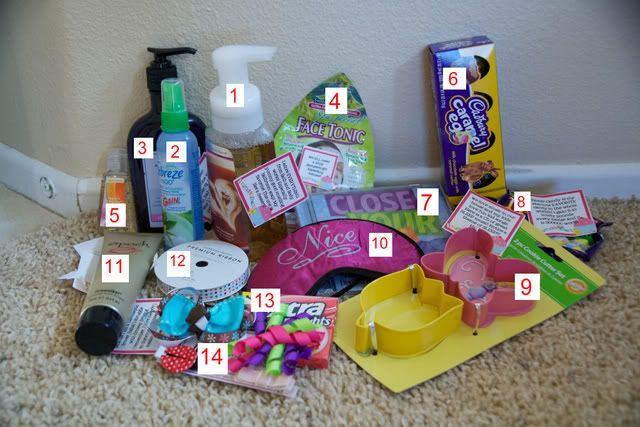 1- Antibacterial hand soap-Carmel Dream!! I might just want to eat my hands after using this
2- To Go Fabrezze- Oh my van needs this!
3- Bath & Body Works Lavender Chamomile Sleep Hand Soap-The note attached said "I love Lavender! And This one is Lavender SLEEP soap, haha! Did I say I love sleep yet? Well, I LOVE sleep"--poor Rachel is so sleep deprived
4- Spa Facial Face Tonic- "We all need pampering! Especially Mamas"-- AMEN!!
5- Tropical Papaya Antibacterial Hand Gel
6- Cadbury Carmel Egg- When my husband saw these he said oh something for me. Now if they had been the regular cadbury eggs, I would have said yes-but these are the CARMEL ones-they are all mine!!
7-
Close Your Eyes
CD by The Sushybye Dream Band-Can't wait to listen to learn some new songs to sing to Ryder
8- Cadbury Mini Eggs- Rachel loves Easter candy and well so do I! I might share these with Eric.. maybe :)
9- Cookie Cutter set- and these are the nice metal ones! Definitely will be using these during spring break
10- A Naughty/Nice Sleep mask-hehe so love it!
11- epoch Firewalker Relaxing Foot Cream-oh heaven! And maybe if Eric rubs it on my feet for me I will use the naughty sleep mask tonight
12- Cute Ribbon-she makes adorable bows-see #14
13- Extra Gum-she uses this to help stay awake while driving-- I might just have to pass this on to Eric as he definitely gets sleepy behind the wheel
14- Four ADORABLE handmade bow/clips--she has her own business-see it by clicking
here
-with some many cute cute things and her prices are awesome! I think I will be ordering some bows and hats soon for photography props
And Rachel's "sleepy" package seriously had perfect timing. The night before I got it-Ryder woke up twice during the night and woke up a third time at 5:30 AM ready to be up and ready for the day! It was still dark out, mama was not happy. So all of these sleepy pampering things could not have come at a better time!
So thank you
Rachel
. I have enjoyed getting to know you and look forward to getting to know her more.