Usually it's six weeks... this time only about four. What am I talking about? How much notice we have before our moves. With my husband's employment we move about every two and a half years... we knew it was coming up. There had been rumors as to where we would be going and now we know for sure.... but before I get to that (gotta love the suspense) first a recap of Ryder's birthday!
We enjoyed lunch at Chuck-E-Cheese. This was really more for the bigger kids than Ryder-- and for mom and dad who didn't want to make any more dirty dishes as the kitchen was all clean for the party.
That evening family joined us for the celebration.
There was lots of good food
And of course cake (which I made)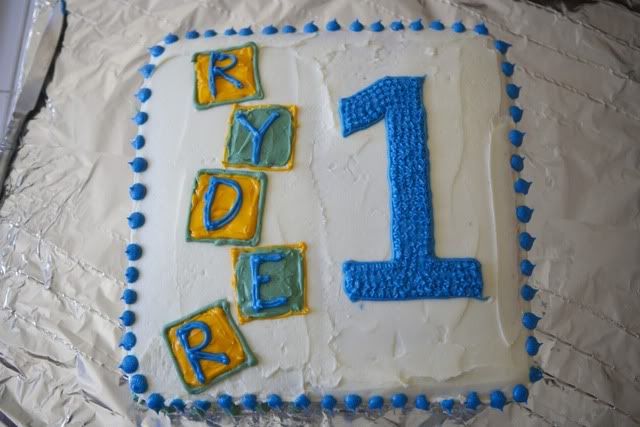 He sort of poked at it at first , then picked off little pieces of frosting. He liked it but really wasn't too excited either way about it.
It was a fun evening and it was sad to think it might be one of the last times that we get together with all of the family like that.
Though (yes the tease is over) we will only be moving either 1 or 1 1/2 hours away. Yes, we are moving in a month and yes we don't know for sure where yet. Eric's next project is only a one year job in a little town (about two hours away without traffic) that we have no desire to live in. So we are going to move to the not so crappy town 30 minutes from the job...but his company is going after another big project about a hour away which he may end up on after this job. So we are contemplating splitting the distance (sort of) between these two jobs so we don't have to move again in one year.
We now have one month to get rid of a bunch of stuff, get things cleaned, find a place to live and move in addition to all of the end of the school year stuff.
Yea, wish me luck.
How many times have your moved in your life?