My good blogging friend
Amy of Involuntary Smiles
started a great new meme that I really need to participate in more often.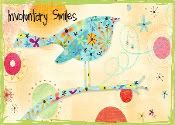 It is called
Time Out Tuesday
. It is your chance to blog about your Time Out that week-or what you did for yourself that week-so that means I need to take time for myself that week. I know as a mom this is so easy to never do.
Amy doesn't have a button for her meme yet. When she started her meme I said I might be able to help her out but it would probably be like a month till I could get to it-well that month has come and gone. So if anyone out there knows how to make buttons and has some free time and wants to help Amy out she would love it! And maybe in another month or two I might be able to get to it....sorry Amy.
So what was my Time Out Tuesday? On Monday I got my hair dyed! Actually I should say I dyed my own hair. The gray hair (yes I have a lot of gray hair at the ripe old age of 30) had taken over again. It was driving me crazy and I needed to do something about it but was never taking time to do it.
One of my friends is a beautician, well she used to be-doesn't have her license in CA, she helped me pick out some good stuff and was there for moral support. And yea! No more grays! So this was my Time Out for this week.
And speaking of Amy- a while back I entered a giveaway on her blog. This was a giveaway for a handmade newborn hat, baby booties and paci leash. I don't have a newborn anymore, nor will I ever again, but I do take pictures of newborns! So I entered and I won!
I got in touch with
Veronica of May Angel Star Crochet
-you can and should see her site
here
. She has some premade hats and booties AND/OR does custom orders! I have shopped around for newborn hats before and her prices are awesome! The quality of her products is awesome too! You can get a hat, booties and paci leash for only $25! So anywho-I was trying to decide what colors to get for my custom order as I wanted something that would work with both boys and girls and she graciously offered to make me a girl set and boy set-and look what I got in the mail on Monday.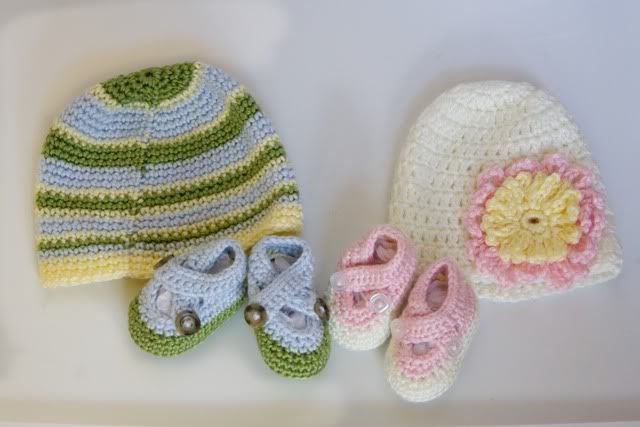 So stinkin' adorable!!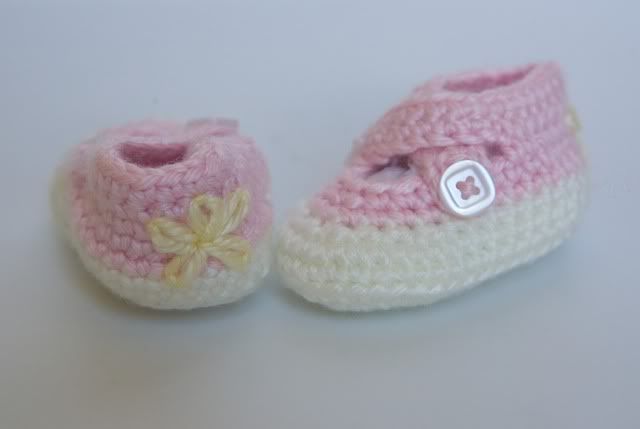 And look at the cute flower on the back-the little details--awesome!!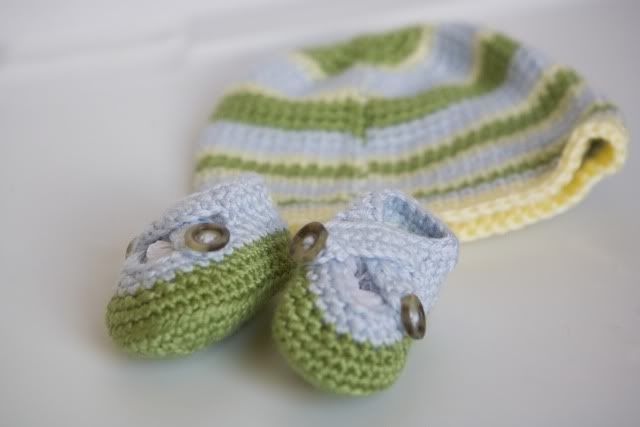 Can't wait to put these on a newborn baby boy!
So definitely go check out
Veronica' site-May Angel Star Crochet
these would all make amazing baby shower presents.
And check out
Amy's blog
and play along-as we all need a Time Out for ourselves.