Okay- I have a million great ideas for blog posts floating in my head but finding the time to sit down and write them has not been easy, between kids, a couple of photo shoots to edit and all of the end of the year school stuff, oh yeah and house hunting, things are crazy.
So I figured I would link up again with a fun meme We Want to Know Wednesdays.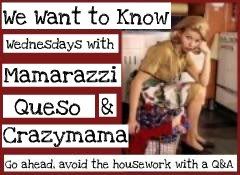 This is hosted by
Mamarazzi
,
Seriously Shawn
,
Impulse Addict
and
Janette
-all great reads!!
This week the questions came from
Shawn
1.} What must you do before you go to bed at night?
A: Brush my teeth-but no I think there have been some camping trips where I might have skipped this. You know I don't know if there is anything I must do, so instead I will tell you what I usually do- take my multi-vitamin, go potty, get into my "pajamas", brush my teeth, floss, say my own prayers, and say couples prayer with Eric.

2.} What is one thing you must snack on at the theater?
A: Initially I thought popcorn.. but well by the time we pay the second mortgage-i.e. the movie ticket price and the baby sitter- we usually just go snack free as really who wants a third mortgage??

3.} Before going on vacation what must you do?
A: Pack everyone-yep that joy of being the mom, I am in charge of packing everything. And I also must make sure I either have posts scheduled on my blog or a post saying I am going on vacation.--I had one of those vacation posts a year ago-wasn't quite the vacation I planned.

4.} What is one thing you must do every day?
A: Go potty--what it's true! And this is the second time I mentioned potty-- I think it is because I really need to go right now- I am just trying to get this post done first.

5.} Is there something you do that must be done in a particular order?
A: My makeup- concealer, bronzer, eyeliner, eyeshadow, mascara- that is just how I always do it

So there you go-fun huh? Head over to any or all of those sites and join along! And don't forget--tomorrow it's Thursday which means Proud Mommy Moments!!