It is so nice being back into blogging; while getting away is always nice, absence does make the heart grow fonder. It's the end of the month so it's time for Ten Things to Smile About.
This is your chance to look back on the month and reflect on the good/funny things that happened during the month, the things that make you smile.
So write your post, grab the button and link up!
Ten Things to Smile June
1. Celebrating ten years of marriage with my awesome husband-- even if we did celebrate by moving--though we went out for sushi and look at these flowers that got delivered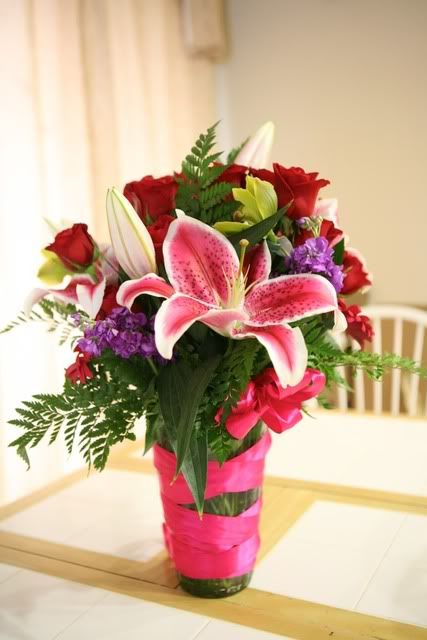 2. Good bye parties/dinners/nights out with good dear friends- a bitter sweet one, but so happy to have friends to miss
3. Watching Ryder get less and less waddely every day
4. Going on a dinner boat cruise for Eric's work- and kicking butt at the newlywed game while we were there
5. Attending Lucas graduation and Alex's Preschool Graduation
6. Alex actually posing for some pictures for me
7. Ryder going in the ocean for the first time- even if it did make him cry
8. Sitting back while the
movers did all the work
9. Celebrating father's day with not only Eric but also my dad who was in town
10. Watching Alex dance in Coldstone- the girl has no fear
Can't wait to see your lists!