We all have those turning points in our lives. Those events or moments when we realize we need to make a change. Where something impacts us in such a way that we realize that yes- help is needed.
Mine happened when I was robbed.
I wasn't always the neatest person. Okay, I still may be working on it. But with each of our moves, which has been many, I have gotten better. Better at not having piles, better at putting things away where they belong. Better at not leaving piles of clean laundry everywhere.
I had 3 roommates my sophomore year of college. My dear friend
Amy
and I shared a room, the other two girls shared the other. Amy put up with my mess, as long as it stayed on my side of the room. I got pretty good at balancing my pile of clothes ever higher on my side of our extra long dresser.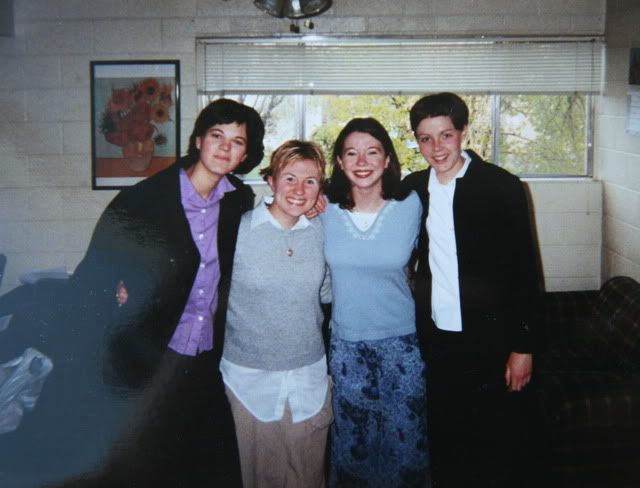 my roommates and I- Amy in the gray, me in the blue- in our apartment


But there was one very distinctive moment where I decided, maybe I should try and be a little neater.
Eric and I were dating and at the time things weren't going so well. I decided we needed a heart-to-heart. I waited and waited for him to get home from work. He got home very late as he had gotten a piece of bark in his eye at work and had gone to urgent care to get it taken care of. By the time he got home he was extra hungry and tired. I was more than willing to run out to get some food with him knowing we could get a chance to talk.
We headed back to my apartment so I could grab my wallet. The front door was unlocked, as it usually was as two of my roommates had something against using their keys as they always forgot them. When we entered the apartment there was a college age guy sitting on the couch. "Hi" I said in passing as I headed over to the desk, figuring he was here waiting for one of my 3 roommates. Eric sat on the couch by him and began eating from Amy's supply of jelly beans, he has never been able to resist candy. As I was gathering my things another guy came from the backrooms or from back behind what we nicknamed "the chastity line". You see at BYU, you are allowed to have the opposite sex over to your apartment they are just not allowed to be back in the bedrooms. The guy sitting on the couch stood up and left with his friend.
"Who had a boy back there?" I asked in disbelief. I headed back to see which of my roommates was guilty. My room was empty, in the other room one of my roommates was asleep- and no she wasn't faking it, she was truly asleep.
"Who was that guy?" I asked waking her.
"What guy?" she asked clearly confused.
It was at that moment that I realized we had been robbed. We had been recently warned of young guys that would come into unlocked apartments and if someone was there they would act like they were looking for someone and apologize for going to the wrong apartment and then leave... and if no one was there, or sound asleep in our case, then they were in luck.
I went back out to the kitchen and now noticed the open kitchen cupboards. They had stolen my handi-snacks! In the end as we did an inventory we realized they had only taken a few snack foods and about $20 cash- we were very lucky.
As the police came over to interview Eric and I to get a description, which Eric was not very helpful as one eye was bandaged and his good eye was focused on the jelly beans, they looked around the apartment. When they went back to my bedroom and saw my dresser, clothes spread on top, drawers pulled out they asked me if they robbers did that.
"No," I said while blushing, "it was like that."
Yep, that was a turning point in my life... when your room is so messy you can't tell if you have been robbed, it might be time to clean up your act.