Have I told you how much I LOVE
Pintrest
? (Follow me if you want-
Emmymom2
) All of the beautiful things, the inspiration- just makes me want to craft and create. I am very happy to say that this weekend I completed two projects- today I will tell you about how I made a toddler puzzle- and I must admit I am proud of this one as it was not something I saw on Pintrest but thought of on my own.
Here is the puzzle.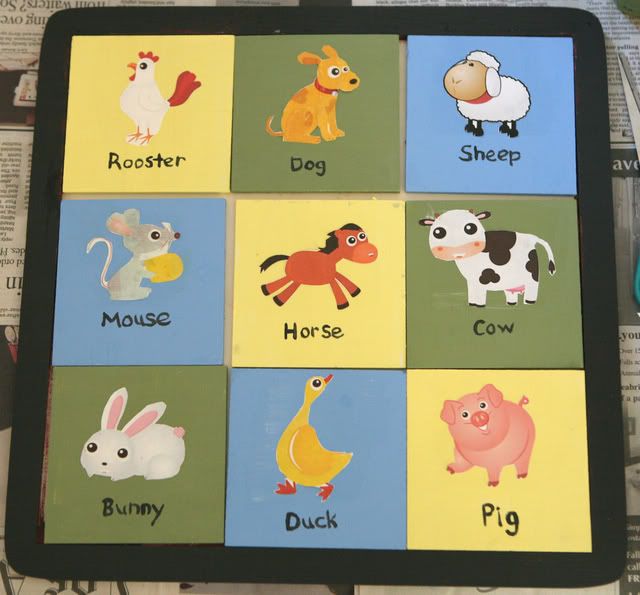 And here is how it looks underneath.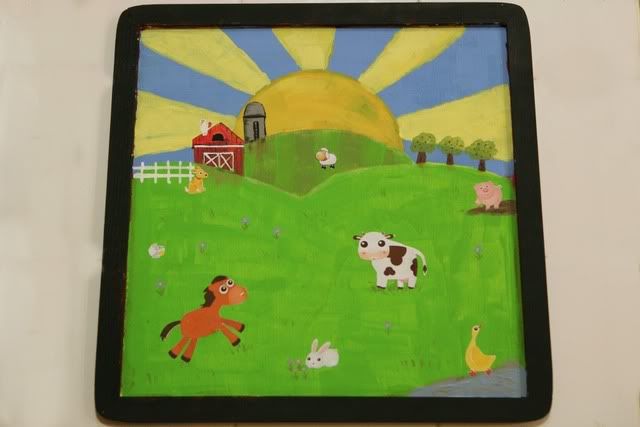 So here is how I did it. I found this board at Michael's a while ago, it is meant for each square to be decorated and then hung on a wall, but I had a different idea.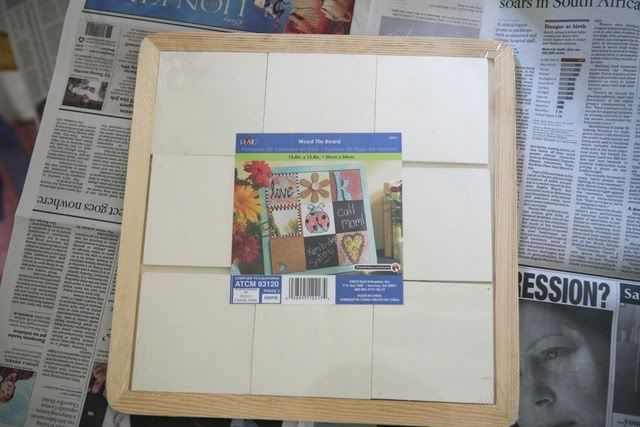 I began by painting the squares, I chose three coordinating colors of acrylic paint. I painted the front and then when that dried painted the back and sides.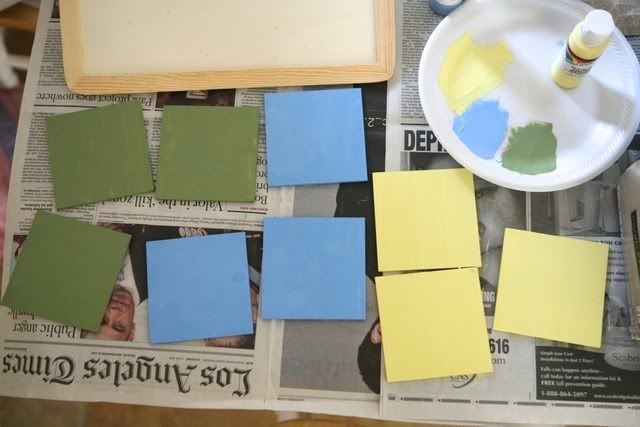 I googled "farm animals" and found a set of 9 animals I liked. The sheep was not part of the set so I had to find him. I printed out the animals on regular printer paper and then carefully cut out each animal. I then typed and printed out all of the names of the animals and used tracing paper to trace on their names. You can just paint the words but I have messy handwriting so prefer to do it this way. I then
glued
the animals on with mod podge. I found it easiest to paint mod podge on the square where I wanted the animal and then carefully placed the animal down, smoothing out any bumps.
After the paint was totally dry, I painted a layer of mod podge over the entire square to help protect it.
My son already loved it and was happy playing with the squares, but I wasn't done yet. I went online and found a farm scene for inspiration. I printed this out to look at while I painted. I first painted the grass, sky and then when the blue dried painted the sun. I painted the back hill a darker shade of green and then painted stripes from the original grass color.
I then used the tracing paper and traced the barn and silo from my farm scene print out. I free-painted the fence and trees.
I then took my original set of animals into photoshop so I could separate each animal (I had to do this as the animals I used were a set--if you found individual animals all you need is a word processing program-like Pages or Word). I then resized the animals based upon where I wanted them placed in the picture. I did this a bit by trial and error and did have to print off a few animals a second time.
Something I did not do-which I should have- was paint a sealant over the picture
before
putting on the animals- instead I ended up sealing around the animals, which was tricky.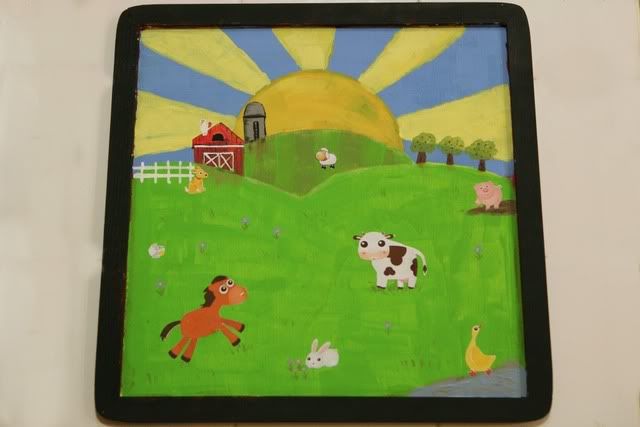 Before I mod podged the animals into place, I added some detail to the pictures, small flowers, lines on the barn, shading in spots, some mud for the pig and water for the duck.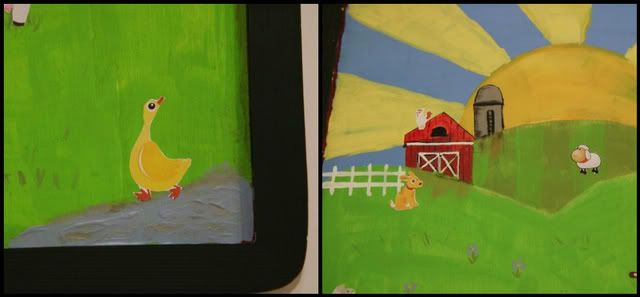 Water: Applied paint thickly to make texture, dry brushed brown along edges, dry brushed in streaks of gold for water.
Shading: If you want to add shading to a picture you need to get a great short scruffy stiff brush here is mine--it is well used- I think the handle used to be blue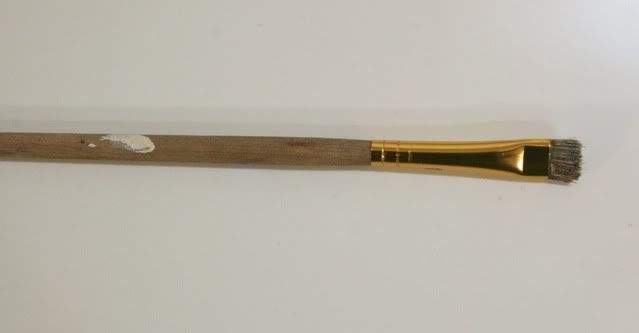 Dip the brush in the color you want to shade with and then wipe it on a plate or paper towel several times until there is almost no paint left on the brush, then start at the edge of whatever you are shading and pull down (or sideways in on the case of the silo)
**If you do not enjoy painting you could even mod podge a picture for the background.
And the result- my toddler loves it. He like walking around carrying the pieces and saying the animal sounds- which for him at this point is pretty much growling for every animal. He will put one or two pieces on-the puzzle--when he can get it away from his older siblings that is-they both love it too.
Supplies: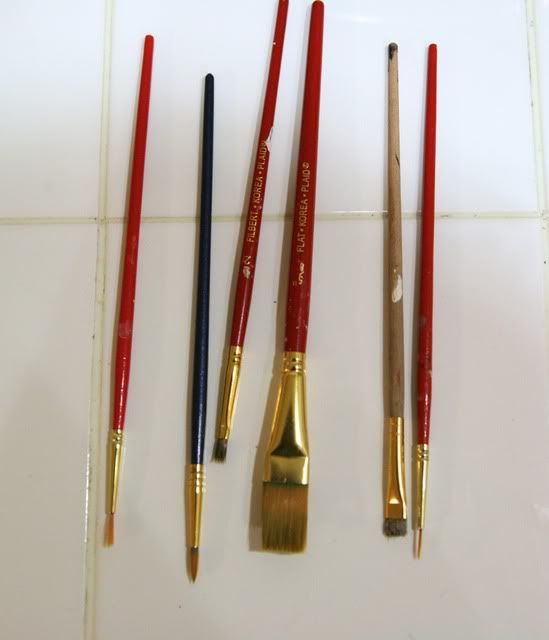 -Wood "puzzle" board-believe it was around $5
-Acrylic paints-various colors (e-mail me if you want specifics)
-Paint brushes-some fine, scruffy brush, 1/2" flat brush
-Mod Podge
-Tracing or transfer Paper
-Computer, Printer, Paper
-Scissors
-Pencil
-Optional: Protective sealant
I am linking this post up at the following crafting blogs