"So what should we do tonight?" "We need to do something fun, what should we do?"
Did you know that when your a mom you are also the cruise ship director? Or so it feels and sometimes I hate that role.
Why do I always have to be the one to come up with the fun things to do? It seems as soon as these questions are asked every creative bone in my body vanishes.
So Friday, maybe it was the nap I got to take since Eric had the afternoon off, or maybe it was something with the moon, but the night ended with Eric telling me I was a genius.
What was this stroke of brilliance I had?
After we picked Lucas up from school, I wrote all of our names on papers. We drew names keeping who we had a secret and then we were off to the dollar store.
**Side note-tangent-- not all dollar stores are created equal-if you pull up to one and from seeing just the outside think-um-maybe not-- then yeah, just don't waste your time**
We each went through the store and picked out one present for our person. We took our presents with us to dinner and while we were waiting for our food exchanged presents. The kids loved it and were so excited and everyone really tried to find something their person would like, and it was the dollar store so it only cost us a little over $5!
The rest of our weekend included replacing our $100 couch we bought almost ten years ago, watching BYU win over Ole Miss 14 to 13, recharging with church on Sunday and then...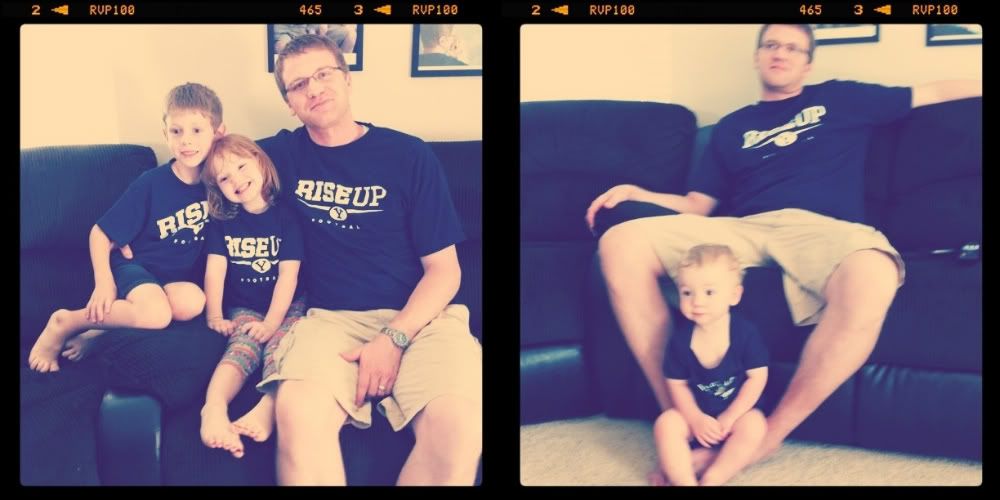 We spent the holiday at Scandia- a mini golf course on steroids. There are roller coasters, tilt-a whirls, a merry go round, etc. We weren't sure how much we were going to be able to do thanks to Ryder so we just bought the 50 ticket pack. After the kids went on the mini roller coaster twice in a row we realized we had made a mistake. Luckily they were awesome at Scandia and let us exchange our unused tickets for unlimited bracelets for Lucas and Alex- definitely the way to go.
Scandia was not too crowded and so the kids raced from one ride to the next often going on the same ride over and over again. They had a great time and even Ryder got to ride on a few rides. We will definitely be going again- but next time we will buy the unlimited ride bracelets from the start.
How was your labor day weekend?