Monday night I hopped on Twitter only to see
@
connieaw
(
Young and the Relentless
) and
@
impulsiveaddict
(
Confessions from an Impulse Addict
) talking about "unplugging" for 8 hours; no phone, no iPads, no computers... and next thing I knew I was agreeing to join in.
A few others
@
ambernde
and
@
sarajolee
(
Outta This World
) joined us.
My husband asked why I was doing this- "won't you just have lots of hours of stuff to catch up on then?"
Good question--but Wednesday morning between 7 AM-3PM I unplugged. And I even took notes.
Don't worry-I'll translate my chicken scratch-with modifications added as these were just reminder notes
6:08 AM- Why am I up? I don't need to be up yet! Go back to sleep
6:12 AM- Dang, I'm up- might as well check my email, I have until 7:00 to do so. Junk, junk, junk, a few comments on my blog... check twitter. Dang why did I just reply to someone?? Now they are going to tweet me back.. must stay away.
6:30 AM Lucas comes sneaking into my room- here we go.
6:50 Downstairs getting breakfast ready- I don't think I have ever watched the clock so closely, I feel like my life is ticking away (
melodramatic yeah just a bit
)
7:22 First beep from my phone-that was an email beep..uh-oh
7:40-Take Lucas to school, come home call my parents
8:45- go to exercise class don't get my butt kicked so badly this time and Ryder doesn't get hurt while running around gym-phew
10:01- Back from the workout, trying to cool off a bit- I unlock my phone and look at main page 15 emails, a tweet, couple of FB- but I DO NOT check any-- I can do this, I can do this
10:28- done with shower, Alex asks to watch another show-Ryder is watching too.... the temptation is really strong now. Must walk away- I go and unload the dishwasher. Hmm, if I get too much housework done Eric might insist on me unplugging more often
10:40- Done unloading, sit on couch to watch show with Alex-so sleepy....drift off to sleep-sitting up
11:00--Bam! Wake up from garbage can being knocked over as Ryder was trying to retrieve his pacifier he threw in there.
And then something interesting happened.... I didn't have anymore notes until 1:00- we were busy with lunch, I put Ryder down for his nap, started some laundry and almost totally forgot about it all....
until
1:00 folding laundry.. hear my phone beep... I sneak a peak 30 emails- I don't open the emails though, so still not cheating.
1:20- Playing
Don't Wake Daddy
and
Uno Moo
with Alex- now the urge to check my email is really great, mindless kids games to that to me... but I was strong and made it
1:50- Go and do my laundry- have my epiphany and am planning this post in my head while I put away clothes
2:07- Impulse Addicts tweets me- though I didn't find this out until later-- asking how I did. Girl didn't I tell you I was an hour behind you!?!
2:30- go get Lucas from school, his shoes are literally falling apart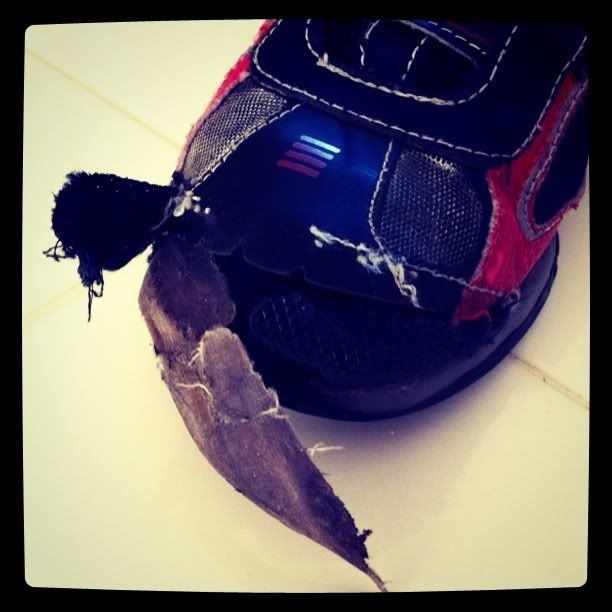 Go right to shoe store
3:08- make it shoe store and I take this screen shot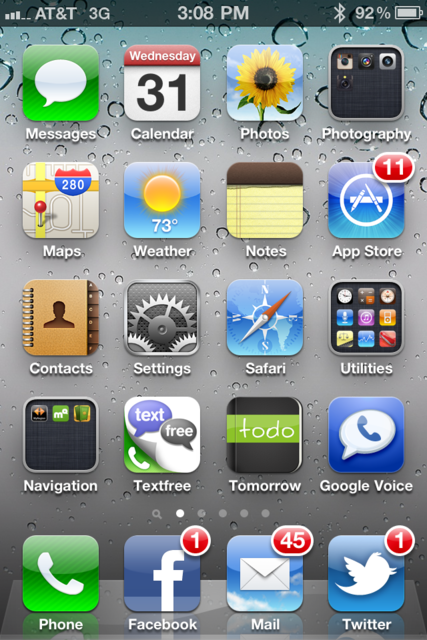 I made it!
So what did I learn from all of this. That it was good. It wasn't necessarily good to pull myself away totally as there were times it would have been fine to check. But it was good not being
bound to the beep
.
When I first started blogging I would sit down at nap time and write three or four posts and schedule them for the next several days, as this is when I had time. After I joined facebook, I found myself swinging by the computer more often to check things. And then I got an iPod touch with wifi and then the iPhone. Suddenly it was right there- my emails, the Internet, FB all right there for me to easily access.
I usually carry my phone in my pocket and well, it beeps and I check it. It has almost become automatic. Sometimes I will quickly see who emailed; but then I would find myself responding to that email almost every time. And there I suddenly would be- half listening to my kids as I was quickly reading another email.
So while I am not going to unplug all day all of the time- I am going to set aside times where I ignore the beeps. They will still be there. And when I have some time-I will take and make time to read them. Blogging and social media are a wonderful outlet for me and they are a great thing... but no longer- no longer will I be a slave to the beep.
Have you ever unplugged?
*You can click on the other bloggers blogs names to read their experience of unplugging