Did I ever tell you I am not a baker? If you have seen some of the cakes I have made you might be disagreeing- I can make an awesome cake.. but after that things don't always turn out quite right. Did you know that quick-rise flour is not just regular flour? Yea, I do-after I found it out the hard way with some very umm thick cupcakes.
But yesterday, I decided to get brave and go for it again. I have seen this recipe on pintrest for a while now-it has been taunting me. I got this recipe, listed at the end, from
Annie's Eats
. My notes are in blue.
I enlisted my helper.
I twisted apart the Oreos-which I was very impressed with my mad twisting skills- and my helper dropped one in each cupcake wrapper.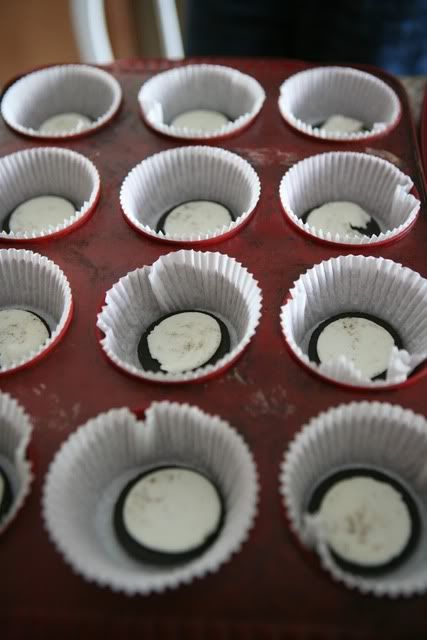 We then followed the recipe- though I must admit I didn't use real butter-as I forgot to buy some. Alex cut up the Oreos for me. In the recipe she says she cut them into 1/4ths- we cut them more like 1/8's any bigger than that seemed way too big.
My other helper may have snuck a few Oreos.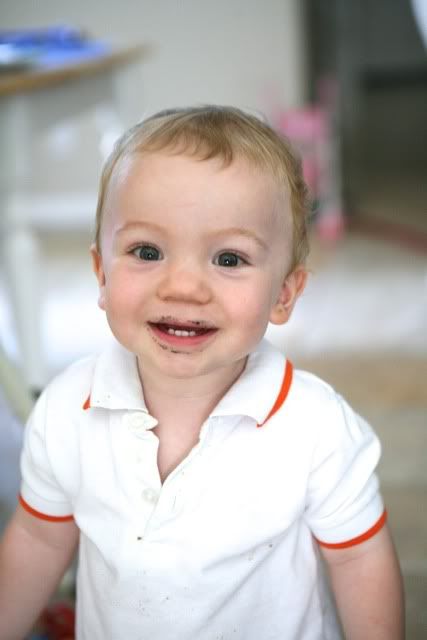 The directions said to cook for 18-20 minutes, I ended up cooking mine about 24- but definitely err on the safe side as all ovens are different.
And the verdict. The half Oreos on the bottom completely stuck to the wrapper, so we ended up just breaking off that part and not eating it. They are very sweet and good- but my kids weren't the biggest fans of the cream cheese frosting- so I may just stick with regular frosting next time.
Have You made any good treats lately???
Cookies and Cream Cupcakes
Yield: 24 cupcakes
Ingredients:
For the cupcakes:
24 Oreo halves, with cream filling attached (more than one bag)
2¼ cups all-purpose flour
1 tsp. baking powder
½ tsp. salt
8 tbsp. unsalted butter, at room temperature (I used margarine-oops)
1 2/3 cup sugar
3 large egg whites, at room temperature
2 tsp. vanilla extract
1 cup milk
20 Oreo cookies, coarsely chopped (I quarter them) (I found a quarter to be too big)

For the frosting:
8 oz. cream cheese, at room temperature
6 tbsp. unsalted butter, at room temperature
1 tbsp. vanilla extract
4 cups confectioners' sugar, sifted
2 tbsp. heavy cream (forgot go buy so used whole milk)

For garnish:
Oreo cookie crumbs
24 Oreo cookie halves (didn't use)

Directions:
Preheat the oven to 350˚ F. Line the wells of two cupcake pans with 24 paper liners. Place an Oreo halve in the bottom of each liner, cream side up. In a medium bowl, combine the flour, baking powder and salt; stir together with a fork to blend and set aside. In the bowl of an electric mixer, combine the butter and sugar and beat together on medium-high speed until light and fluffy, about 2 minutes. Blend in the egg whites one at a time, beating well after each addition. Blend in the vanilla extract. With the mixer on low speed, beat in half of the dry ingredients just until incorporated. Add the milk and beat just until combined, then mix in the remaining dry ingredients. Gently fold in the chopped Oreos with a rubber spatula until evenly incorporated, being careful not to over-mix.
Evenly divide the batter between the prepared cupcake liners. Bake for 18-20 minutes, rotating the pans halfway through baking, until a toothpick inserted in the center comes out clean. Allow to cool in the pans 5-10 minutes, then transfer to a wire rack to cool completely.
To make the frosting, combine the cream cheese and butter in the bowl of an electric mixer and beat on medium-high speed until smooth, about 1 minute. Blend in the vanilla extract. Beat in the confectioners' sugar until incorporated and smooth, 1-2 minutes. Add the heavy cream to the bowl and beat on medium-low speed just until incorporated, then increase the speed to medium-high and whip for 4 minutes until light and fluffy, scraping down the sides of the bowl as needed.
Frost the cooled cupcakes as desired. Sprinkle with Oreo crumbs and garnish with Oreo halves.