It's that time again! Time for the Status Quote. What is the Status Quote- is a monthly- the second Tuesday of every month- meme that
CA Girl
and I host. It is a chance for an easy quick post where you can share those funny/weird/bizarre FB or Twitter status updates that you find. You don't even have to tell who said them!
So grab the button, copy those status and link up- it always makes for a great laugh.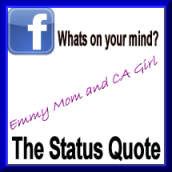 As always-my commentary is in blue.
Some simply for laughs:
"It's odd how they name storms, but they don't name calms. There's a gentle breeze this morning. I think I'll call him Doug." --
how quickly did the police officer arrest you?
Observations on Life:
"--
I have never thought of that

"As a driver I hate pedestrians, and as a pedestrian I hate drivers, but no matter what the mode of transportation, I always hate bicyclists."
"
" --
yes we all know this is true
" -
EWWWWW!!!!


"If your face is covered with frosting and you are claiming you didn't sneak any- I am going to call your bluff."
"My 4-year-old in the middle of a fit "I wish I was all grown up and living by myself!""

"A 2nd "gem" from my 4-yr-old. "I like playing with M- she almost always gets MY way. Sometimes I get her way."

See how fun and easy! So copy those status into a post and play along.