It's that time- what time? Status Quote Time! Status Quote is a meme
CA Girl
and I host the second Tuesday of every month. It is a time to share those funny/weird facebook or twitter status updates you see-- and no need to incriminate who said them.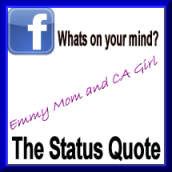 So an easy fun post! Copy those status, grab the button and play along. --
oh now I have a costume idea for my kids!
Kids:
--
if only this would happen to my kids occasionally
Why does homework have to be a knock-down, drag-out, this is the hill I am willing to die on kind of battle? Seriously.-
- this one is not funny at all as it is way too true
Life lessons:
-yep so true-
I use synonyms all the time!
What did you find on FB or Twitter this month?