As you saw from
my post
a bit ago, the crafting bug has bit me hard. Last week I showed you how I made the
DIY superhero/brother sign
. And guess what- my sign got featured!!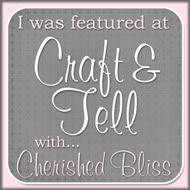 Totally made my day to see that
Ashley of Cherished Bliss
featured my sign.
This week- before Halloween is over, I am going to show you the pumpkins.
Dollar store pumpkins
Acrylic Paint-- French Gray Blue, White, Black, gold, brown
Paint brushes
I painted the first pumpkin the French Gray blue color I am in love with lately. You do not have to worry about covering every little spot- in fact it is fine if a little orange shows through.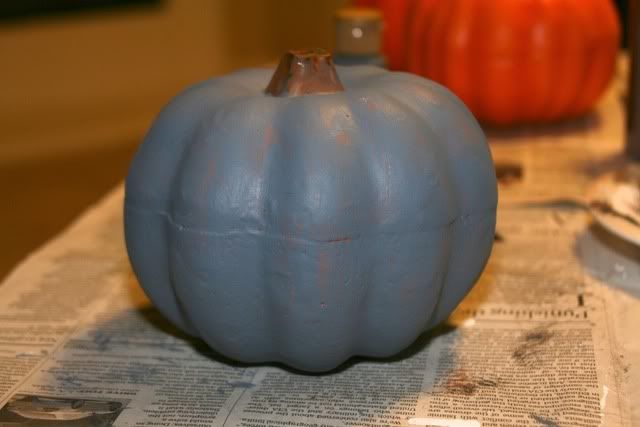 There was some of the bright ugly orange on the stem- so I painted up the stem a tiny bit covering them with the the blue with a small brush.
I then took the brown and a small brush and painted the stem brown. I did not make a straight line across at the bottom of the stem but instead made it more jagged and natural looking.
I then dry brushed some splotches and streaks of gold all over the pumpkin. I espeically concentrated on the bumps of the pumpkin- but really just did it randomly. The key is to have a very dry brush with a tiny bit of gold on it. And the finished results....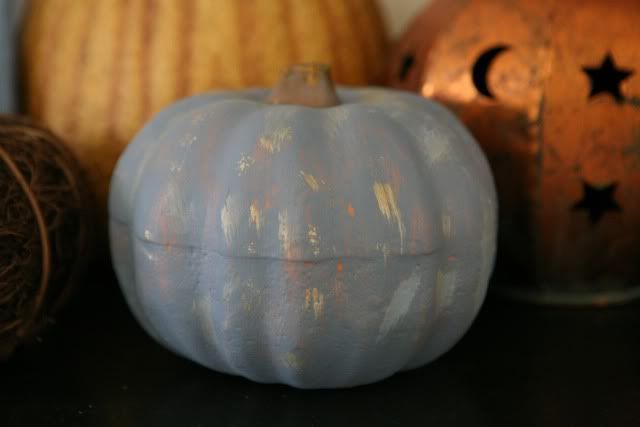 You can see the orange peaking through at points but it works.
For the other two pumpkins I followed the same techniques, I painted one white- with a black stem- but it was too stark white for my taste, so I
very
lightly dry brushed steaks of black. The black pumpkin: I painted black, white stem, and dry brushed in a little more dramatic steaks of white.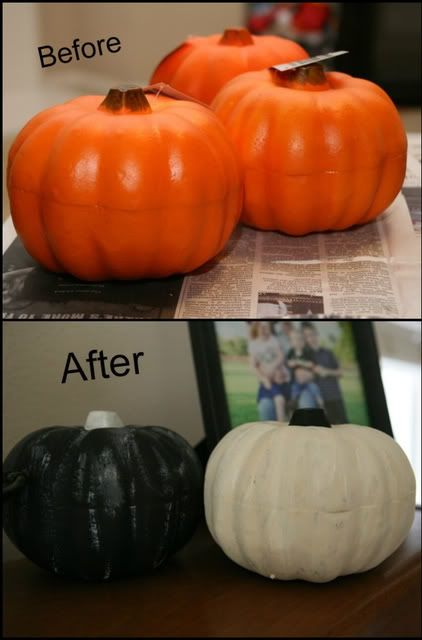 So easy to do- and it only took me 30 minutes at most to do all three. I already had the paint and brushes so only cost me $3! Have you made any crafts lately?
I am linking this post up at the following crafting blogs