Eric's parents are in town so I am enjoying the day with them- just writing this post for a quick reminder of the final week of the Review Extravaganza tomorrow!! You can do a link for the whole year if you haven't participated yet, just include the button please.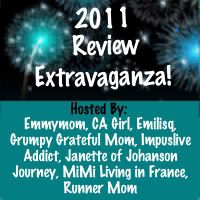 Also,
Ten Things to Smile About
- will be THIS Tuesday. This is your chance to look back at the month and find ten things, whatever they may be that made you smile.
See you tomorrow with your recaps!