How I have I missed out and been deprived so many years?
"I only ever buy organic produce. I generally can't afford organic produce, so I stick to a diet of nuggets and fruit snacks."
sounds like heaven to my kids
"
I think this may have happened to me- which would explain why I hardly cook anymore.
"O Christmas tree, O Christmas tree, how lovely are your Chinese-made, synthetically fabricated, polyethylene & polyvinyl chloride mix branches."--
makes me miss a real tree
"Walmart should make all its greeters wear Miss America sashes stating what nursing home they represent."-
okay really funny but kind of sad too
"If you're working on a project and suddenly see red on it- it probably means you cut yourself. #alittleslowtoday #ouch" --
yea that was me-- when I was making the Grandkids signs! Cut my finger taking the back off
"I love it when I am blatantly staring at someone and they can't tell because I have my dark sunglasses on but then after an awkward few moments I realize I am wearing my regular glasses."--
total reason to have dark sun glasses and contacts- then won't make this mistake
See, fun and easy! So play along and link up. And tomorrow- tomorrow I have a great giveaway for any of you that live in or around Southern California.
And linking up today with
Impulsive Addict
and
Seriously Shawn
cause I love those gals!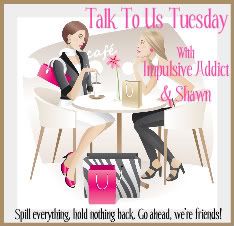 " Is there really such a thing?