What is the longest kid's birthday party you have ever been to? I am not talking about a family member's party where you stay for hours afterwards as it's family. I am talking about a friend from school kid's birthday party. I hit a new personal record this weekend.
I took Lucas to a birthday party for a friend from school that was scheduled from 12:00-5:00-- but wait check that, the party didn't end, or I should say we didn't leave the party (it wasn't close to over) at 5:40 PM.
That is almost six hours people.
It was a pool party, it had been beautiful all week. On Saturday it started raining (halfway through my 4 mile run as a matter of fact-- my second half trying to get back to my car was a bit faster) So, I called the parents assuming maybe it would be cancelled thanks to the rain and the high in the low 60's- but the party was on. The pool would be all heated up.
When we arrived at 12:20 there was only one other guest there. I passed a lot of time talking to the 17-year-old brother that got roped into bringing his younger brother to the party. But after about two hours I was done. And then when it started raining but the kids continued to swim- I was really done.
Lucas however, was not. Having the time of his life, being more brave in a pool than he has ever been. So we stayed. The heat from the pool and the cool air soon made steam rise from the water and off of the kids whenever they would get out of the water to go down the slide.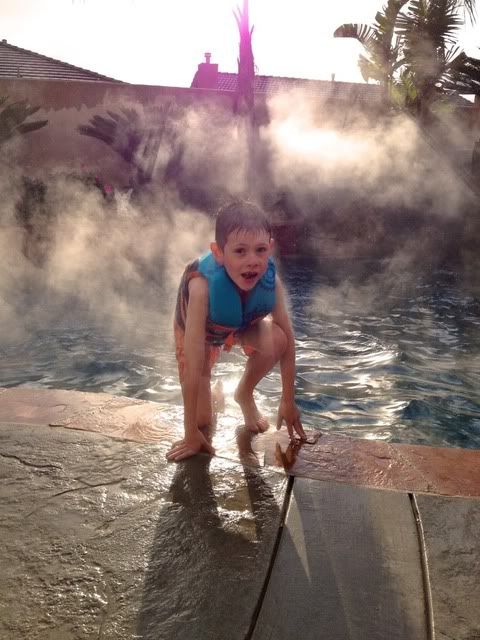 Around 4:30 I convinced Lucas to get out of the pool, we were ready to make our departure but wait- they are about to do the pinata! And they did- at 5:00, and then wait- there is a second pinata-- and now cake! Finally at 5:40, we walked out the door, Lucas carrying his cake on a paper plate. As this momma was ready to go.
Do you have a record to beat that?