It's a day of love- and so what better then a gift for my readers to say how much I love having you all be part of my blogging world.
Have you heard of
Sneakpeeq
? It is one of the fastest growing
social shopping companies on Facebook. It is a site that has distinctive home, food and fashion products for 70% off! You all know I love a good bargain.

And today Sneakpeeq is giving away to my lovely readers 20% off your next purchase just for entering, plus a chance at the Grand Prize: one winner will receive a $25 gift card to use in sneakpeeq's amazingly low-priced boutiques!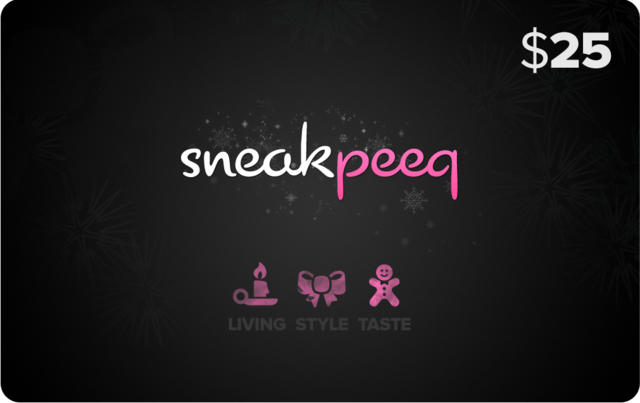 And what am I getting for this? Nothing-other than a chance to give one of you a great gift card and I will most likely be taking advantage of the 20% off too!!

So the nitty gritty

This giveaway is open to US residents only (sorry their rules not mine). Also, this giveaway is only eligible for NEW users of Sneakpeeq.



To enter:


First: You MUST click this link- just click here-- to go sign up (or click link in rafflecopter)

Then for additional entries- well lookie, just follow the instructions on the nifty rafflecopter.

You can enter now through February 22nd.

I hope you have a wonderful Valentines Day- we are having our fancy family dinner tonight- don't worry there will be lots of pictures soon.


a Rafflecopter giveaway