If you blog you probably understand- the friendships, the connections- for many of us these friendships and support are a lot of the reasons we continue to blog. If you talk to a non-blogger about it, they just don't really get it- they have a hard time understanding and believing that someone you never met could be such a close friend. And as you make those connections, you will often find yourself wishing you could at least get to meet that person in real life.
On Friday I got that chance, with not one but 7 other bloggers.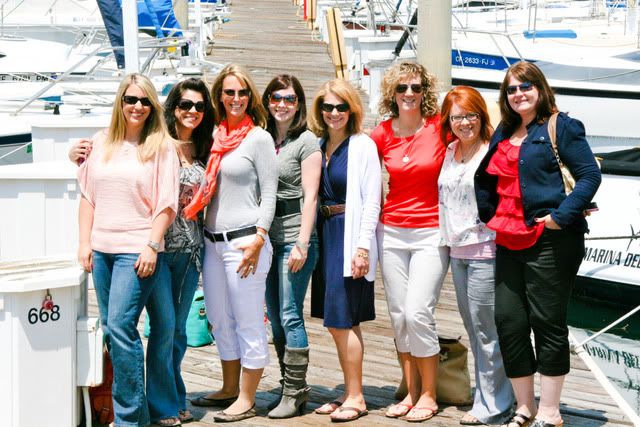 From Left to Right:
Impulsive Addict, Viv of V-Spot, Seriously Shawn, Me, Jen Harried Mom of Four, Becca of Texas Darling, Jenny Kate, Connie of Young and Relentless
Friday, I crashed the Huntington Beach Bloggers Party for lunch. Right before I left to head there my stomach was suddenly filled with butterflies, why was I feeling like this? Thankfully as I made the drive they all disappeared.
I knocked on the door to the beach house and Impulsive Addict and Viv of the V-spot opened the door. It is strange meeting someone that actually is a complete stranger yet you know them so well. They were just as I pictured them, though even prettier in real life.
I went back to the patio to meet the rest, hugs all around. Connie of the Young and Relentless was taller than I pictured. Jen of Harried Mom of Four was the only one I didn't really know but she was friendly right from the start.
We loaded up into two cars and drove to Schooners and Later- a cute restaurant right on the harbor with lots of patio seating. While we waited to be seated we hit up some random strangers to take our pictures, tons of cameras being handed to the unsuspecting strangers- they didn't realize they were dealing with bloggers who document everything.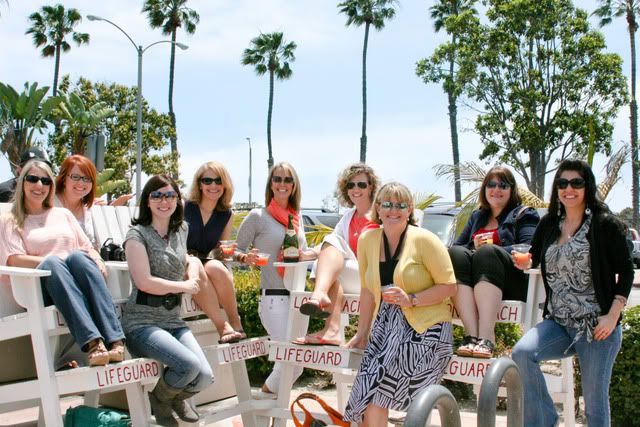 Throughout the meal the phones and cameras were constantly being whipped out- taking pictures of the menu, the food, writing down funny moments that happened- like when a bird basically landed on Seriously Shawn's lap and she screamed leaving the whole restaurant momentarily silent. I was in my element- these girls knew me and understood me- the need to document everything, the constant whir of your brain thinking of what would make the next good blog post.
My lunch- Eggs Benedict with avocado and crab- Viv And Jen got the same thing, they just got theirs with fruit
Bloggers, we really are an odd bunch if you think about it. But it's a wonderfully odd group that I am happy to say I am part of.