Last summer we moved- so this summer since we are staying put for now, we are making up for it and have planned lots of fun little getaways. This weekend we went to Big Bear California. It isn't too far from our home but as we were driving there I felt like I was in a whole different place in the country.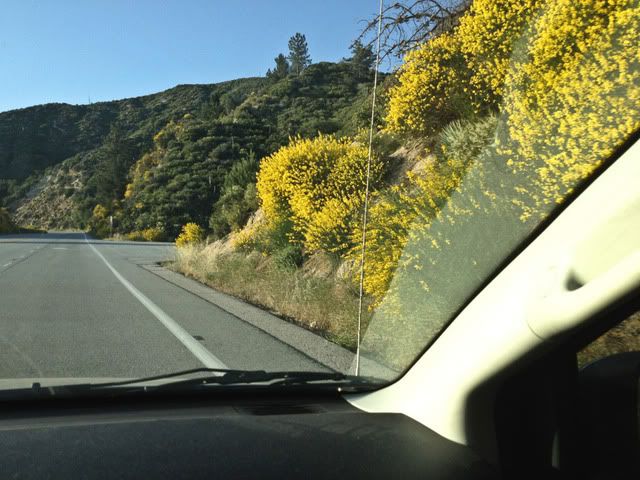 The road there was extremely windy and steep and had these beautiful flowers
Upper Left than Clockwise: Outside of our condo; Pool view from our porch; woods on grounds; living area
While we were there we explored the woods. The kids were fascinated by the huge pine-cones.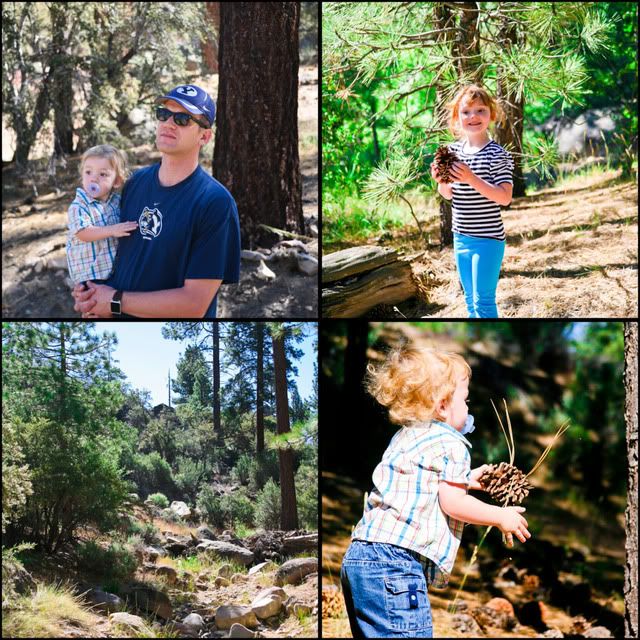 And the lizard.
Alex thought maybe if she held out a stick it would climb on the stick- the poor thing just froze and played dead.
We then headed for the Alpine slide- only to find out it was closed on Friday-yea like Legoland all over. Thankfully, a trip to a little park by the lake trying distracted the disappointed kids and lead us to a boat rental place. We headed back to the condo, packed our lunches then rented a boat.
The kids loved it!!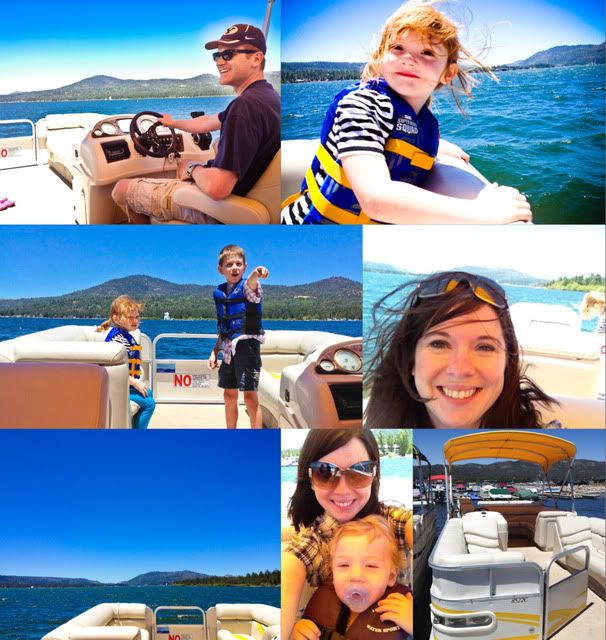 Well, two of the three did. I think the wind (it was pretty windy) and the noise were just all a little too much for Ryder- he sunk into my arms and soon fell asleep.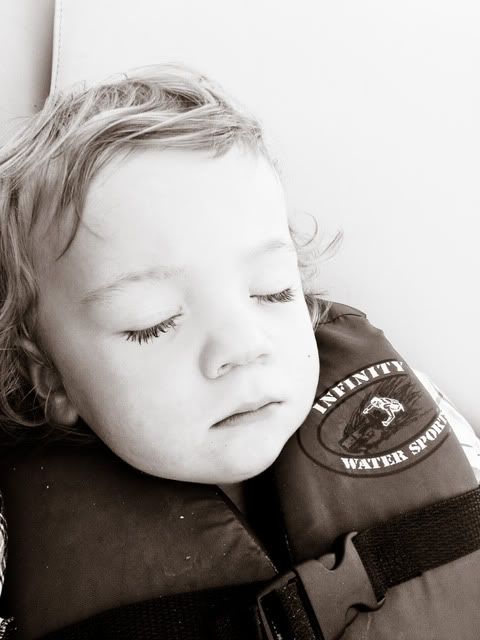 He did wake up at the end and look around more though.
We headed back to the condo for nap time- but apparently Ryder's half hour nap on the boat was enough for him, so we went swimming. Ryder wore his swim vest for the first time- he never would put it on before-- and was jumping off the side almost the entire time. He loved it.
We found a great local pizza place for dinner.. and apparently the 30 minute nap wasn't quite enough for Ryder. Luckily he did wake up to eat dinner.
Saturday we were off to the Alpine slide. You had to ride a ski lift up and Lucas was brave enough to ride himself all the way up. Alex and Lucas both took their own scooters down and Eric and I switched who took Ryder down.
Everyone loved it- even Ryder who by the end was saying
weee
all the way down.
After the slides there was more swimming; burgers grilled on the BBQ and then we went to a local shop for some Gelato.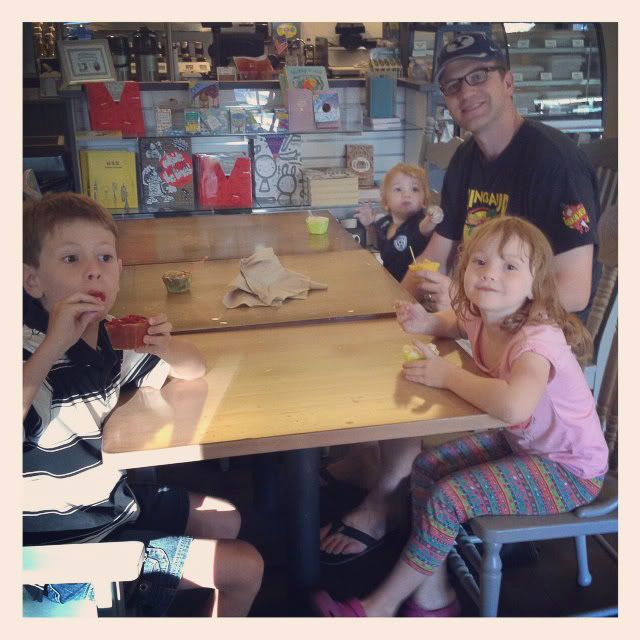 Sunday was church in the morning, than a walk on the animal preserve side of the lake.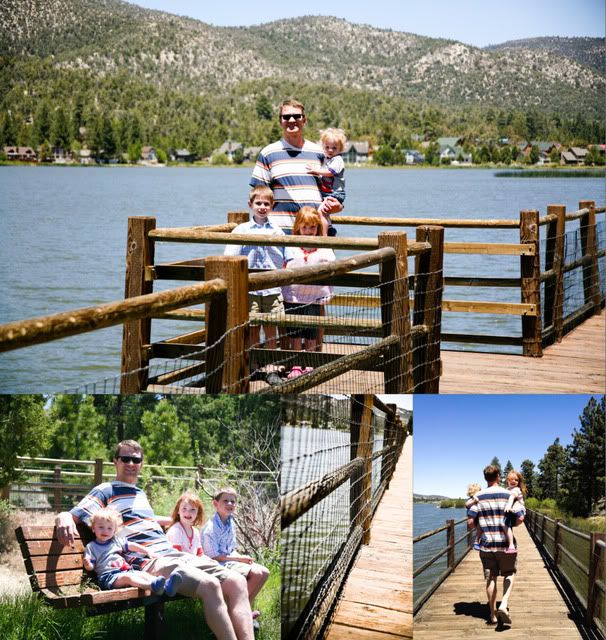 Ryder loved seeing the ducks- he just wasn't so sure about the cracks in the bridge- unwilling to walk unless someone (i.e. Eric as he decided most of the weekend that only daddy could help him) held his hand.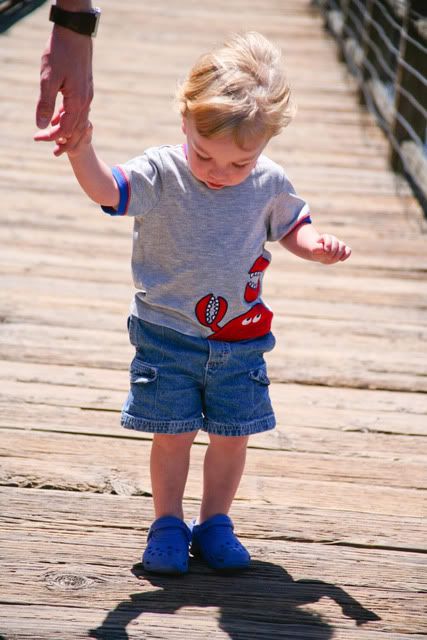 It was such a fun weekend getaway and I am sure this will not be the last time we visited Big Bear.
And here is a quick little trailer of our entire weekend.
Do you like doing weekend trips or longer vacations?
Since it is Tuesday I am linking up with some other great Tuesday meme's. IA and Shawn's Talk to Us Tuesday and Stacy Uncorked's Random Tuesday
Oh and I almost forgot-- the winner for the Ruckus Reader membership is